Polymarble vs Vitreous China – Which One Is Better?
When planning a new bathroom, a fair share of the attention should be given to the materials you'll use for sanitaryware.
The bathroom fixtures need to be able to withstand multiple regular users and be comfortable and convenient for all of them.
There's also a question of how will they aesthetically fit with the rest of the space.
Plus, you'll need to take into account the cost and durability, as you'll likely use the same bathroom elements for years.
So, choosing the right one will likely impact your everyday life.
However, with all the different materials on offer, selecting the right one can be a bit of a headache.
I'll take a closer look at two materials that are certainly among the most popular and compare polymarble vs vitreous china to see what each of them can bring to your household and which one is better for your family.
So, let's dive in!
Polymarble – Information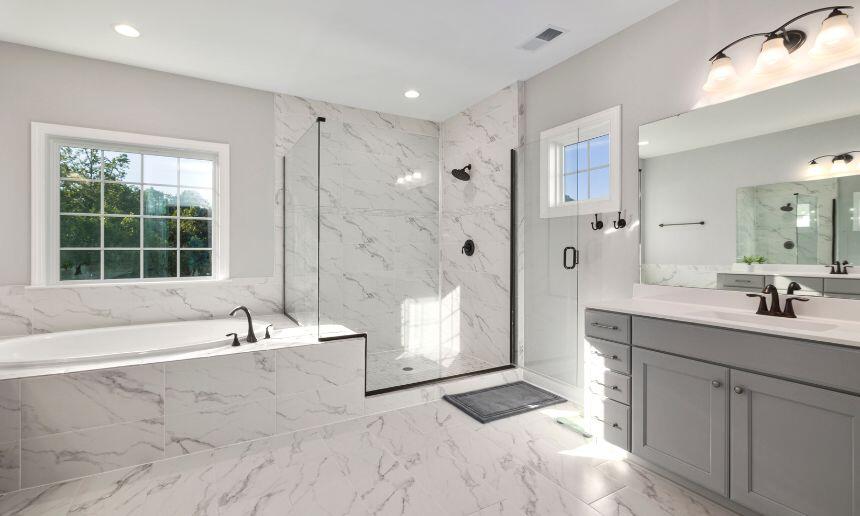 Although relatively new among materials used for sanitaryware, polymarble is quickly gaining more and more popularity.
Due to its composition and manufacturing process, polymarble is rather hard and durable but also has an elegant appearance.
Because of this, it's often used instead of similar-looking but more expensive and less versatile marble and other natural stones.
Material
Polymarble is often referred to as "man-made stone".
This means that it's made through an artificial process but still has the appearance of stone, although with less required maintenance.
Simply put, polymarble is made of marble dust and resin.
To be more precise, it's a mixture composed of one-half limestone (or calcium carbonate) and a one-half high-grade acrylic resin that is finished with a 2mm high-quality thick colored gel coating.
Furthermore, various fillers can be added to the mixture to ensure that the material is more durable and scratch and stain-resistant.
Maintenance
As it's highly resistant to a lot of things, including scratches and stains, polymarble is very easy to clean and maintain.
The slick coating and chemical properties of this material make sure that stains from soap scum, rust, calcium buildup, or any other source don't stick to the surface.
In most cases, just wiping the surface with a dry cloth after every use will keep the sanitaryware in question clean and shiny.
Most of the dirt will already be gone after being washed off with clean water.
For those rare, more persistent, stains, you can use any type of mild cleaner as long as it's not too abrasive.
Another good thing about polymarble is that it's usually very easy to refurbish in case of potential damage.
More often than not, light sanding or buffing will be more than enough to make the surface look as good as new.
Pros and Cons of Polymarble
Positive
Very easy to keep clean and maintain in good condition.
Rather affordable compared to some other frequently used sanitaryware materials.
Polymarble is highly durable and resistant to various sorts of damage. With a 2mm thick coating, it's able to withstand heavy beating during regular use.
The thick resin coating is also responsible for the minimal porosity of polymarble. Besides minimal absorption of water, this also means that polymarble's finish and density prevent bacteria from penetrating the material and the development of mold. This way, polymarble ensures that your bathroom is in a proper sanitary condition.
Negative
As it's mostly made from calcium carbonate, polymarble is rather chipping-prone, especially at the corners.
Polymarble doesn't do too well when exposed to heat for a longer period of time. Placing a very hot object, such as a hair straightener, on polymarble sink or countertop can damage its surface.
Vitreous China – Information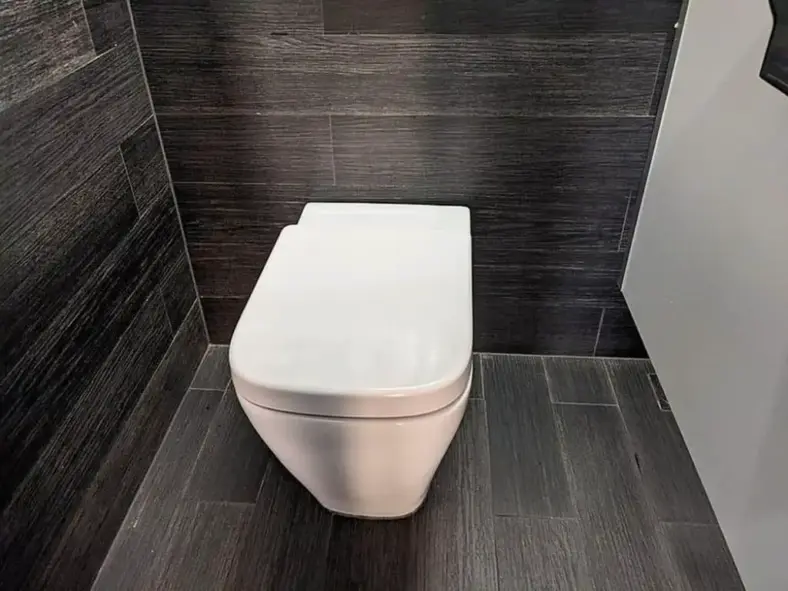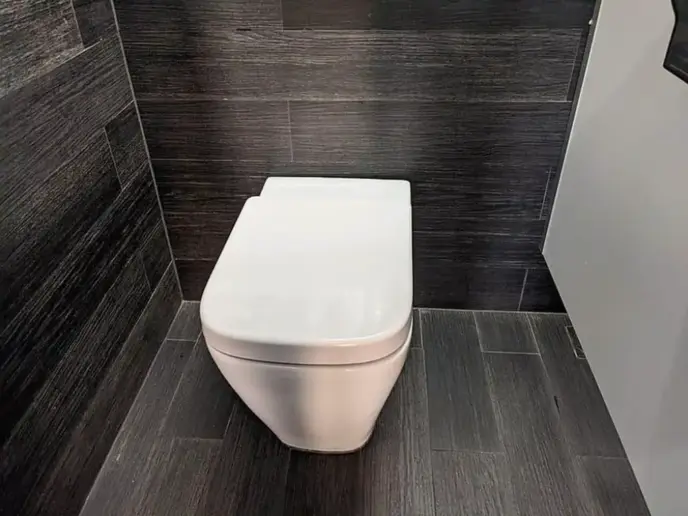 The name vitreous china actually refers to the manufacturing method in which enamel coating is applied to ceramic or porcelain objects, mostly bathroom elements.
The technique itself is very old and it's been used for centuries to provide porcelain with more durability and strength.
Also, vitreous china is known for its stylish glossy and shiny finish.
Material
The vitreous china glazing is composed of several different materials.
While it's mainly composed of glass particles and clay, the mixture also includes quartz and feldspar.
Quartz is used to make sure there's less shrinkage and the use of feldspar results in a less porous finished product.
Vitreous china coating is applied to an already finished and once-heated porcelain product.
This involves firing the porcelain clay mixture on the second heating at much higher temperatures, and applying the enamel liquid glass coating on top of it.
This makes the final bathroom element, such as a sink, bathtub, or bidet, tougher, glossier, and more water-resistant.
Maintenance
Even though vitreous china is, similar to porcelain, rather easy to clean, it still requires regular maintenance.
This way, you can prevent soap scum and bacteria growth which can be tougher to clean once they build up.
If you do this, most of the dirt can be washed away with just regular water pressure.
While the china vitreous surface is very hard and strong, it's still best to stay away from coarse sponge pads and highly-abrasive cleaning products.
Pros and Cons of Vitreous China
Positive
Low maintenance and low cleaning effort.
Bathroom elements made of vitreous china feature a very stylish and elegant, high-gloss finish, in line with modern interior design requirements.
Vitreous china is very tough and durable. Protective enamel coating prevents discoloration over time and damage from accidentally dropping smaller objects.
Negative
Vitreous china bathroom elements will likely get chipped, or even more damaged if a heavier object is dropped onto its surface.
Installing vitreous china sanitaryware will likely require a helping hand as they are quite heavy. Additionally, you'll need to make sure that the bathroom element is well supported and the installation can support the weight.
Polymarble vs Vitreous China – Which One is Better?
The decision whether to choose polymarble or vitreous china for your bathroom should be made after careful consideration as both have their advantages and downsides.
While both materials are very tough, polymarble is more likely to withstand heavy hits.
When hit by a heavy object, polymarble may only chip, particularly on the corners, while vitreous china could break beyond repair.
Another advantage of polymarble is that it's easier to shape and produce in various designs.
The vitreous china manufacturing process includes drying and shrinking, so the larger the product, the more difficult it is to shape.
On the other hand, vitreous china provides a glossier, denser, and smoother finish, which is good for aesthetics, but also makes it more sanitary and easier to clean.
Finally, it handles high temperatures much better than polymarble.