Vitreous China vs Fireclay – Which Is Better?
With all the materials, shapes, sizes, and designs available, picking the perfect sanitaryware can sometimes be a headache.
You want a sink, bathtub, or bide that will add to the visual appeal of your bathroom, but at the same time serve you for years and be easy to maintain.
To make the right choice, it's important to be aware of what materials you can find on the market and what each of them provides in terms of durability, visual appeal, and maintenance.
Two materials you certainly can't go wrong with are vitreous china and fireclay.
Each of them has plenty of qualities, but also some drawbacks,
Comparing vitreous china vs fireclay will help you learn which one better suits your priorities and personal preferences.
To make the decision a bit easier, I'll take a closer look at these materials and explore what each of them brings to the table.
So, let's dive in!
Vitreous China – Information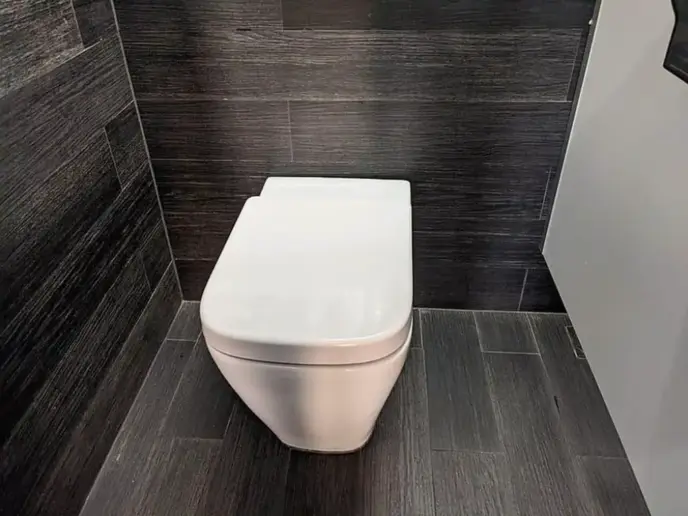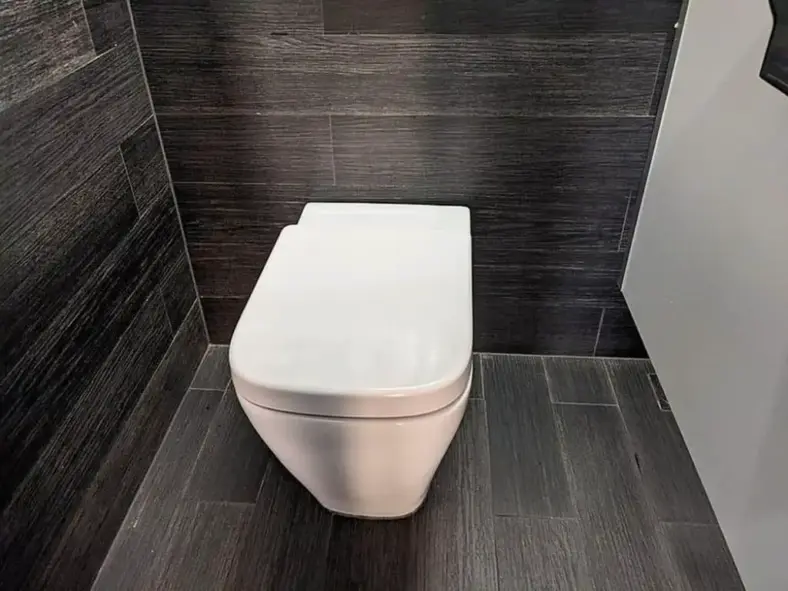 Many people confuse china with porcelain, mainly due to its similar appearance.
The truth is, they're not completely wrong as vitreous china is not a different kind of sanitary material.
In fact, it's a method used to apply enamel coating to porcelain products.
It's a very old technique, dating back to Ancient Egypt when it was used to make porcelain tougher, less porous, and glossier.
Today, vitreous china is highly popular and used on a variety of bathroom elements, as well as kitchenware.
Material
In its essence, vitreous china is a glass-particulate composite, meaning that it's mostly made of glass particles with the addition of some other components which are responsible for unique properties.
Adding clay to the mixture makes it more flexible and easy to shape, while quartz and feldspar provide less shrinking and porousness, respectively.
The glazing is applied to the porcelain product that has already been heated once. The porcelain clay mixture is then fired once more at a higher temperature.
When the heat reaches a certain level, vitreous china coating is added on top of the porcelain object,
Maintenance
Vitreous china is perfect for modern-day, busy living, as it requires close to minimal effort.
The maintenance is mostly hassle-free and the only important thing is that it's performed on a regular.
This is mainly thanks to the smooth and slick vitreous china finish whose non-stick properties mean that almost no soap scum, grime, grease, or other dirt will remain on the surface.
Simply washing them off with the running water should take care of most of it.
Light cleaning every day will prevent the buildup of these substances, prevent bacteria development, and keep the bathroom element in perfect sanitary condition.
For more stubborn dirt or stains, you can use the mild cleaning liquid and a non-abrasive sponge.
Pros and Cons of Vitreous China
Positive
Vitreous china requires minimal maintenance and very little effort and time invested in cleaning
Besides toughness, vitreous china also adds to the visual appeal of the whole bathroom. Very stylish and elegant, the high-gloss finish is in line with the concepts of modern interior design.
Toughness and durability are the main reasons why people choose vitreous china. Protective enamel glazing is scratch and stain-resistant and prevents discoloration over a longer period of use.
Negative
In case you drop a heavier item onto the vitreous china surface, it may easily get chipped or even more damaged.
Vitreous china products are fairly heavy, so you'll likely need help during installation. Also, due to its weight, the installed product should be well-supported.
Fireclay – Information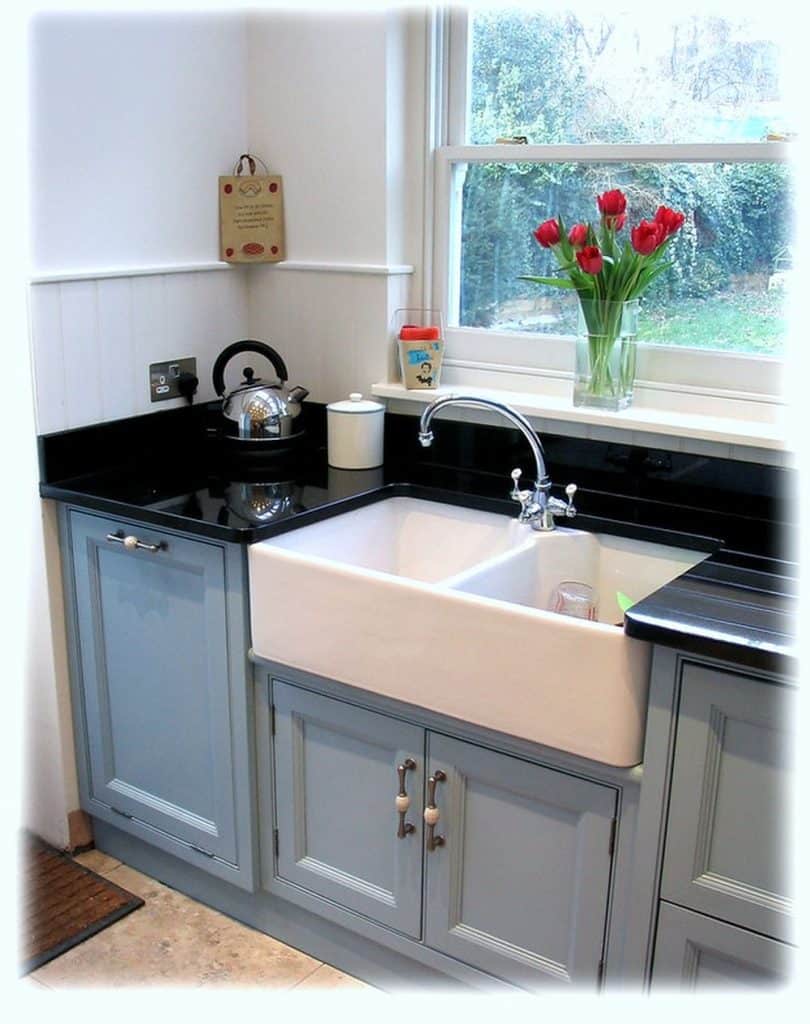 Attractive and tough, fireclay is currently one of the trendiest materials used for bathroom and kitchen elements.
It's among the most durable options you can choose, capable of withstanding years of heavy use without discoloring, fading, rusting, or suffering notable scratches.
Due to their somewhat rustic appeal, they're a great fit for more traditionally designed bathrooms and kitchens.
Material
Fireclay is a type of ceramic, and like all ceramic and porcelain products, its main component is clay. In most cases, fireclay is made of white clay, found only in certain corners of the globe.
However, unlike some other materials, fireclay is not carved but molded which allows for greater variety when it comes to shapes and designs.
The manufacturing process starts with mixing clay with water.
The mixture is then poured into molds and dried for around 2 days in specifically designed rooms with controlled humidity.
Once dried, the clay is hand-glazed and fired at extremely high temperatures, commonly over 2,000 degrees Fahrenheit.
Heating at high temperatures fuses clay and enamel together, creating fireclay.
This unique process ensures that the finished product is highly durable, dense, non-porous, and mostly damage-resistant.
Maintenance
Fireclay is low maintenance, but there are still some rules you'll need to follow. Regular, everyday cleaning will ensure that no dirt gets stuck in the sink or bathtub.
It's a good idea to wipe the surface with a dry cloth after every use to prevent water spots.
More significant dirt can be cleaned with a mild cleaning liquid or baking soda and a damp sponge. When cleaning, you should avoid heavy abrasives and steel wool sponges.
Pros and Cons of Fireclay
Positive
Easy to clean and maintain
Eco-friendly and recyclable, fireclay is 100% made from natural materials.
Fireclay is incredibly durable and most capable of withstanding anything it may face even during heavy-duty use.
Fireclay is also non-porous which prevents water from penetrating the internal part of sanitaryware and developing bacteria or mold. It's also highly resistant to alkali, acid, and scratches. Plus, it can withstand high levels of heat
Negative
Fireclay is fairly limited when it comes to available colors.
Fairly expensive compared to most other sanitaryware materials.
Vitreous China vs Fireclay – Which One is Better?
Vitreous china and fireclay both have their own certain qualities that can make you sway either way when shopping for sanitaryware.
It's up to you and your personal preferences and budget to decide which one is the right one.
Fireclay is, due to its specific manufacturing process, the more durable of the two. It's better at withstanding heavy use and more resistant to impact even by heavy objects.
Plus they can be molded into a larger variety of shapes as they have less shrinkage allowing them to maintain a flat surface more easily.
On the other hand, vitreous china provides more options when it comes to color. Fireclay is mostly available only in white and off-white options.
In addition, vitreous china is the more affordable of the two, so if you're operating within a tight budget, it should be your pick.