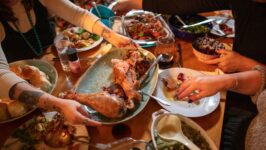 How to Throw The Perfect Charlie Brown-Inspired Friendsgiving
There's an undeniable, heartwarming nostalgia when you think of Charlie Brown and the ever-entertaining Peanuts gang. From the whimsical adventures to the life lessons taught by children (and one very wise beagle), these stories have a special place in our collective memories.
So, as the chill of late autumn sets in and we prepare to gather with friends, why not sprinkle a bit of that Charlie Brown magic onto our festivities? Let's journey together through a Friendsgiving inspired by the timeless charm of the Peanuts crew, ensuring a gathering filled with laughter, love, and a hefty dose of nostalgia.
Setting The Scene: The Charlie Brown Ambiance
Friendsgiving is as much about the atmosphere as the food and company. When you're aiming for that unmistakable Peanuts vibe, getting the ambiance just right is crucial.
Think simple and heartfelt with a touch of whimsicality. Envision Linus's comforting blue blanket draped over a chair, a recreation of Snoopy's iconic red doghouse (perhaps fashioned from cardboard), and don't forget a little twiggy representation of the unforgettable Charlie Brown Christmas tree.
It's about capturing the essence, the emotions, and the simplicity that Charlie Brown and the gang embody. When thoughtfully placed, little touches can transport your guests straight into the heart of a Peanuts comic strip.
The Star of The Show: A Friendsgiving Feast
Anyone who's watched the classic Charlie Brown Thanksgiving episode knows the gang's feast was untraditionally delightful. Now, while popcorn, pretzels, and jelly beans might not make everyone's Friendsgiving wishlist, the spirit of camaraderie and making do with what one has truly stood out.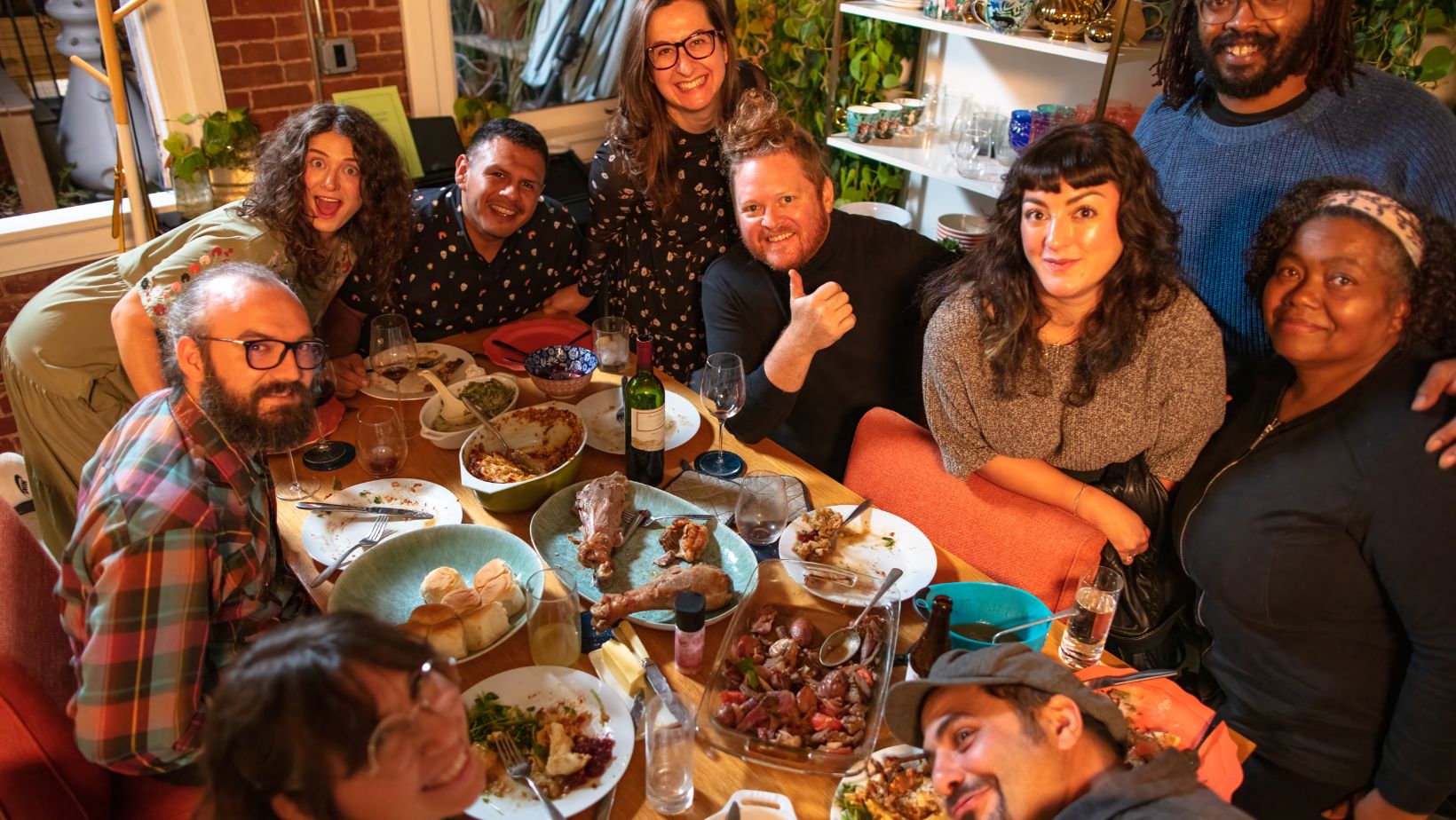 Having the right tools is paramount to recreate this in a more palatable fashion. Serve your feast in ceramic cookware to provide an elegant touch. Their unmatched heating properties will ensure that your dishes, whether true to the Peanuts universe or a modern twist, are served in impeccable style and taste.
Just imagine the joy of presenting a dish in a beautiful ceramic piece that mirrors the warmth and authenticity of a Charlie Brown-inspired gathering.
1. Snoopy's Buttered Toast And Popcorn
Every Peanuts aficionado fondly recalls that endearing scene where our favorite beagle, Snoopy, serves up a unique spread of buttered toast and popcorn. This Friendsgiving, let's pay homage to that quirky, heartwarming choice.
You don't need to replace the traditional turkey, but setting up a little side station with perfectly buttered toast triangles accompanied by a bowl of warm, salted popcorn can be a delightful nod to the show.
You can also make it a bit gourmet. Consider a flavored popcorn or add a dash of truffle oil to your toast. It's a conversation starter, a walk down memory lane, and a fun snack that might just steal the spotlight from your main courses.
2. Lucy's Punch Bowl Special
Lucy, with her fiery spirit and undeniable presence, has often been the life of the Peanuts party. What better way to celebrate her than with a drink inspired by her very essence? This Friendsgiving, serve up a batch of Lucy's Punch Bowl Special.
Think of a refreshing dash of apple cider, a splash of ginger ale, and a hint of cranberry for that tangy punch. For those looking for an adult kick, a splash of spiced rum might just do the trick.
Serve it in a grand punch bowl with slices of citrus fruits and a few cinnamon sticks. It's more than just a drink; it's a celebration of one of our favorite characters, ensuring she's right there amidst the Friendsgiving fun.
3. Patty's Pumpkin Pie
When thinking of desserts synonymous with Thanksgiving, pumpkin pie undoubtedly stands out. Patty's Pumpkin Pie isn't just any pumpkin pie; it's pie inspired by the spunky Peppermint Patty.
Rich, velvety, and exuding warmth with every bite, this pie captures the spirit of the season and the character. Flaky crust, creamy filling with the right hint of spice, and maybe a dollop of whipped cream or a drizzle of caramel on top will make this pie the showstopper of your feast.
It's that dessert that gets everyone excited, eagerly waiting for their slice. Just like Peppermint Patty herself, it's familiar, comforting, and has an undeniable charm that makes Friendsgiving feel like the special occasion it truly is.
A Peanuts Toast to Friendsgiving!
As the golden leaves drift and the essence of autumn fills the air, our Friendsgiving celebrations become tales of warmth, love, and cherished memories. With a Charlie Brown touch, we've ventured beyond the ordinary, embracing the simple joys of the Peanuts universe.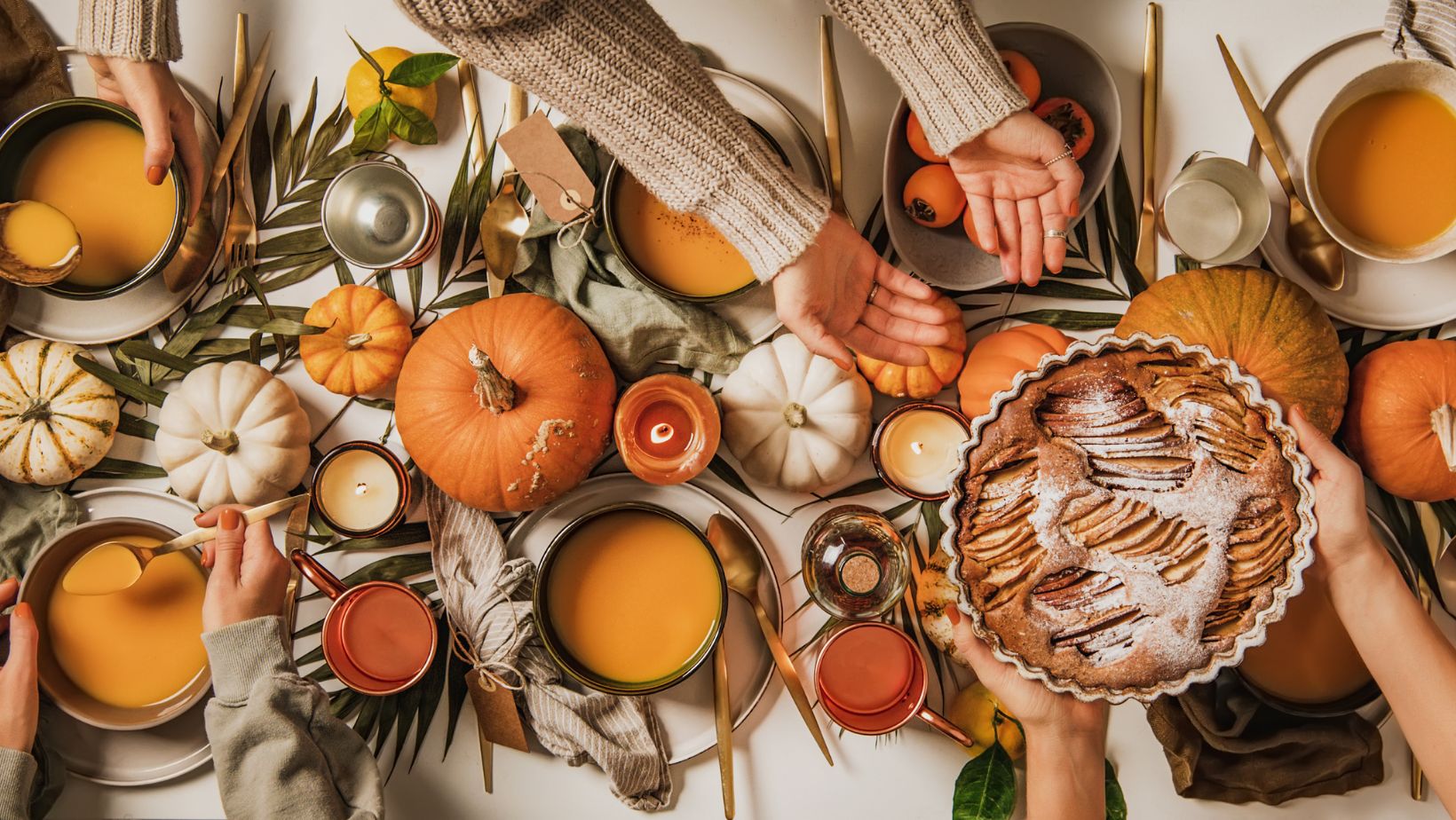 In the heartwarming dishes, playful nods to beloved characters, and the embracing ambiance, there lies the true spirit of gratitude and friendship. As you raise your glass (or perhaps, your mug of Lucy's Punch Bowl Special), here's to treasured moments and the timeless charm of Charlie Brown.