9 Best Office Chair Wheels For Carpet In 2023
Those who spend a fair share of their day working from an office chair are well aware of how annoying it can be to have your wheels stuck or hardly move across the carpet floor.
This may seem like a small thing, but you'll often find yourself in need of quickly moving your chair to the next desk or reaching something from the filing cabinet behind.
Having this go less than smoothly is not only irritating but also distracting and can keep you from focusing on the job at hand.
Therefore, having the best office chair wheels for carpets is very important if you want to be productive and feel comfortable at your job,
Most office chairs have replaceable wheels and installing the ones that are suitable for the carpet should do the trick.
However, when shopping for new office chair wheels, you'll notice that there's a plethora of available options on the market.
To help out, I've compiled a list of office chair wheels for carpet currently available.
Lifelong Office Chair Wheels for Hardwood Floors and Carpet
These replacement office chair wheels more than justify the name of the company they're manufactured by.
They're designed for heavy-duty intense daily use and will serve you for the years to come.
Made of industrial-grade steel and equipped with precision ball bearings and polyurethane chair casters, they will provide support even if you're of a heavier build, handling a weight of up to 650 lbs.
Besides being tough and sturdy, Lifelong's replacement casters also feature a simple and slick rollerblade-like design that will fit into any modern office.
Even though they're fairly large, wheels are compatible with the majority of the office chairs available on the market.
Plus, as they feature a stem to connect it to the chair legs, installation is very easy and straightforward. All you have to do is push caster stems into leg sockets.
External premium-grade polyurethane layers are there to ensure silent and smooth movement across all surfaces, including hardwood, laminate, carpets, tile, or vinyl.
In addition, the caster design further improves mobility by preventing dust and hair from getting stuck underneath the fork.
Positive
simple and modern design
suitable for a variety of floor types
capable of supporting heavier builds
no dust and hair getting trapped on the wheels
made from industrial-grade steel for extreme durability
Negative
rolls less smoothly on high pile carpets
due to their size, wheels can add a fair bit of height to the chair
not compatible with IKEA and a couple of other brand-name chairs
Brightfield Office Chair Caster Wheels Set
If you're looking to protect your office floors from scratching and damage, Brightfield's set of 5 chair caster wheels is definitely one of your best options.
Casters are made of heavy-duty material, with high-grade steel used entire support bracket and internal parts, which guarantees that wheels will remain in service even after years of daily use.
At the same time, the base of the wheels is covered with premium polyurethane material, ensuring that the chair will go easy even on the more sensitive carpets and not leave any ugly marks.
The polyurethane covering, along with the precision ball bearings, provides reduced vibration and makes sure that the chair will glide quietly and smoothly across any surface.
Plus, the bearings will allow you to turn and swivel easily, making every movement much less of a hassle.
As the bearings are fully enclosed, they will remain functional even on particularly dirty or hairy carpets.
The installation is easy and each caster features a universal 7/16″ stem and can be, besides chairs, installed on racks and computer desks.
Positive
easy to install
sturdy and durable
smooth and silent gliding across any kind of floor surface
versatile, suitable for office chairs, racks, and computer desks
very affordable, compared to wheels from some other manufacturers
Negative
may have issues handling heavier loads
casters can sometimes have difficulties moving at 360 degrees
Clever Office Chair Wheels
Clever Productions is a proven name in the office supplies industry and their office chair wheels certainly live up to the standard set by the company.
They're designed to withstand years of use and abuse while keeping your floor perfectly safe.
This means that no matter if you have carpet, hardwood, vinyl, or tile flooring, you won't have to worry about scratches and other damage.
In addition, the Clever Office Chair Wheels set fits 95% of the office chairs available on the market and can be installed in just two easy steps.
Precision bearings allow for smooth and easy movement in any direction and can rotate to 360 degrees.
Plus, the stem design and soft polyurethane covering make sure that all movement goes on quietly.
So, there's no awkward squeaking to disturb your office colleagues or family at home.
On top of all of this, wheels feature an elegant design that can add another touch of class to your work or home office.
Positive
elegant design
casters rotate to 360 degrees
very quiet and smooth movement
made of superior grade stainless steel and superior quality polyurethane
Negative
can be too slipper on a particularly smooth floor
metal edges could have been smoothed out better
Hosali Office Chair Caster Wheels, Set of 5
Once you've installed Hosali's set of office chair caster wheels, you're set for a really long time, no matter the type of floor.
Extremely versatile these wheels are safe for use and won't leave any scratches or markings on hardwood, carpet, parquet, vinyl, or tiles.
This is because Hosali Office Chair Caster Wheels are covered with an extra thick and soft layer of polyurethane which not only suits any surface but also provides silky smooth rolling and quiet movement.
The manufacturer used roller skating technology to increase friction and reduce slipping.
These features have been confirmed by the industry-recognized BIFMA and ROHS tests.
Besides being able to move freely and comfortably, these wheels are also built to support even users with a heavier build, up to 650 lbs.
To ensure this, casters feature a sturdy structure made of stainless steel and feature premium dual-steel ball bearings and PU rim.
Replacing your old wheels with Hosali set is easy and shouldn't take more than 10 minutes.
Positive
made of premium materials
great value for your money
excellent movement control
safe for use on any kind of floor
long-lasting, strong, and heavy-duty caster wheels
Negative
don't fit with IKEA chairs
some difficulties while navigating on the thicker carpets
UVII Office Chair Wheels (Set of 5)
If your priorities when looking for office chair caster wheels are the ones that produce minimal sound and allow smooth movement, you should seriously consider this UVII product.
The wheels are made of heavy-duty polyurethane material and encased in a soft rubber making sure that not only you'll be able to move freely but you'll be doing so with no damage to the surface, even the carpet.
Plus, UVII swivel casters will ensure that all movement is quiet and disturbing to those around you while you work.
As your floor will be fully protected, you may even save some money as you won't need a floor mat
When all 5 wheels are assembled together, they can withstand a load of up to 650 lbs., meaning that even those that are a bit on a heavier side will not have any issues using the chair with these caster wheels.
The wheels are 3 inches in size and the stem features standard measurements (7/16″ x 7/8″) meaning that they will suit most office chairs available in the US.
Positive
easy to assemble
no damage to the floors
smooth and quiet sliding across all types of floor
versatile, fits most office chairs, racks, or computer desks
Negative
may become a bit loose after a prolonged time of service
changing direction can sometimes be difficult on high pile carpets
CINEYO Office Chair Caster Wheels for Hardwood Floors and Carpet
Installing CINEYO's set of 5 office chair caster wheels is a great way to finally stop all the annoying squeaking sounds cheaper wheels may make and move around your office with complete freedom without even getting out of your chair.
These wheels are specifically engineered to provide a noise-free working environment and glide across the floor to the desk next to you or the filing cabinet.
CINEYO wheels feature support brackets made of industrial-grade steel to make them thicker and stronger so they can deal with even heavier loads.
Furthermore, polyurethane casters and precision ball bearings will help you move without a hitch no matter if you're rolling across the carpet or hardwood.
In addition, casters are soft enough not to inflict any damage to the surface underneath.
Easy to install and suitable for the majority of office chairs, CINEYO wheels can be put to work in a matter of minutes.
Positive
easy to assemble
sturdy and reliable
very quiet movement
glide smoothly across the floor, leaving no scratches behind
Negative
could be more durable
sometimes there's some resistance when trying to swivel
Seddox Professional Office Chair Caster Wheels
The set of 5 office chair caster wheels by Seddox is perfect for any office that features hardwood floors or ones covered with a thin pile carpet.
Still, as they are specifically designed for flat and sensitive floors, you should be aware that your movement will be a bit restricted if the floor is covered with a thicker carpet.
However, on any other surface, the movement will be fast, quiet, and hassle-free, thanks to soft polyurethane covering the wheels and two precise encased bearings.
The third precision bearing is located in the wheel's turning mechanism and its role is to ensure effortless turning and swiveling.
Seddox wheels are not only nimble and agile but also very sturdy and durable.
They're produced with the same technology used in manufacturing roller blades, so you know they'll be able to withstand any kind of heavy daily use.
While extremely tough, these wheels are also very easy on the floors and their soft covering prevents any sort of damage or markings.
In addition to all this, Seddox caster wheels are stylishly designed and will fit right in with any type of modern office chair.
Positive
soft and noiseless
modern and luxurious design
universal stem size, fitting most office chairs
solid steel stem and frame, supporting up to 650 lbs.
Negative
not suitable for high pile carpets
the 3-inch size raises the overall height of the chair
TICONN Office Chair Caster Wheels Set of 5 for Tile, Hardwood Floors, and Carpets
When looking for versatile office chair wheels, the TICONN set should be at the very top of your list.
Not only do they fit most of the office chairs available in stores, but they are suitable for any kind of office floor surface.
They will offer great performance on carpet, hardwood, vinyl, tile, or any other floor type.
If you were using a desk floor mat, you can freely throw it away as these wheels eliminate the need for it.
Each part of every single [amazon link="B09G6B8VVL" title="TICONN caster wheel" link_icon="amazon" /] is made of premium materials.
Casters are covered with wear-resistant polyurethane, while the bracket is made of heavy-duty powder-coated carbon steel.
All this ensures full comfort while using the chair and smooth movement across the office.
Plus, TICONN wheels are equipped with a universal grip ring stem suitable for most types of office chairs.
The 3″ elastic polyurethane casters provide a fairly large point of contact with the surface, necessary for a quiet gliding experience.
Best of all, no matter how much you move, there will be no scratches on the floor.
Positive
suitable for all floor surfaces
fits the majority of office chairs
in the lower end of the office chair caster wheels price-wise
made of premium-grade materials for maximum comfort and durability
Negative
dirt and hair may get stuck on the wheels after longer use
have to be regularly greased to provide optimum performance
Omyoffice Office Chair Caster Wheels Replacement(Set of 5)
For those worried if the chair wheels can support their weight, there's no better option than Omyoffice's set of caster wheels.
Compared to other products on my list, these wheels can withstand almost twice the weight, supporting a load of up to 1,000 lbs.
Despite being this sturdy and tough, Omyoffice wheels are also very lightweight and easy to slide across any surface, including carpet and hardwood.
This is because every wheel is molded from soft, high-quality polyurethane which provides a perfect combination of durability and grip.
Plus, rolling on this wheel is extremely quiet and leaves no nasty smudges or scratches on the floor. You can even safely use it on the carpet, without fear of tearing it up.
The assembly process and attaching wheels to the chair are simple and take no time at all.
Omyoffice caster wheels are compatible with almost any chair you may have, including executive, salon, and gaming chairs, or rolling stools.
Positive
leaves no scratches
supports up to 1,000 lbs.
sturdy but elegant design
safe for use on any surface
one of the cheapest wheels on my list
Negative
may not glide smoothly over more slick surfaces
add some height to the chair, which can be an issue with non-adjustable chairs
Office Chair Wheels For Carpet Buying Guide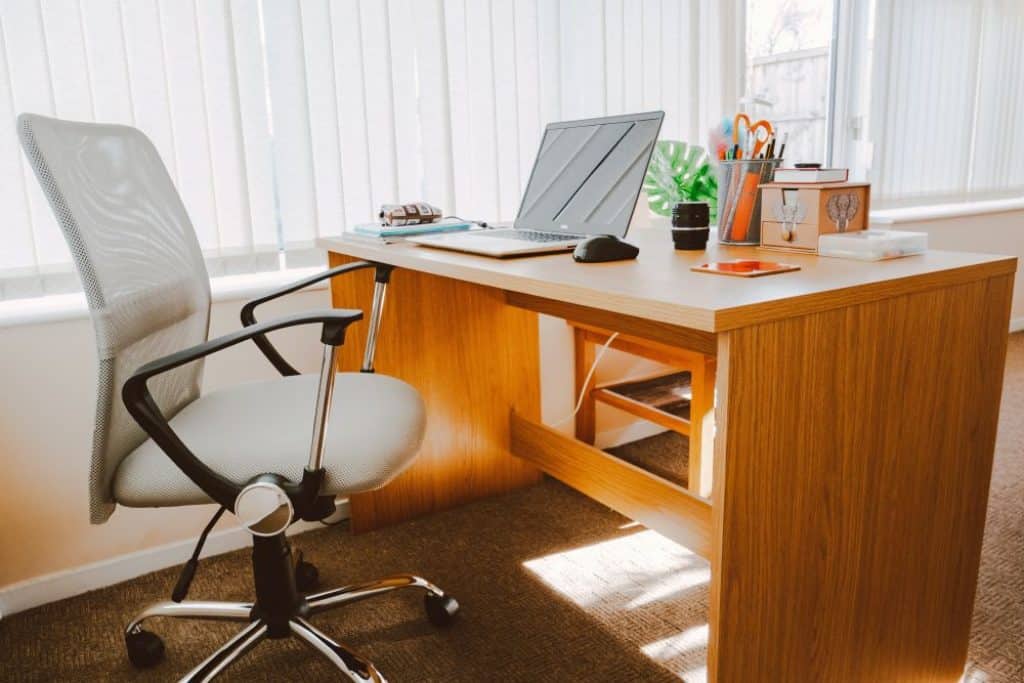 If you're not happy with the wheels that came pre-installed with your office chair, you can easily replace them with another set that can easily be found in a local furniture store or online.
However, when you start shopping for replacement office chair wheels, you'll notice that there are plenty of available options.
However, not all of them will provide satisfactory performance.
To make sure that you buy the best office chair wheels for carpet, you should carefully consider a couple of factors.
When thinking of a certain set of wheels, it's a good idea to check it against each of these factors.
Wheel Material
The key factor that will determine the performance and the first thing you should pay attention to is the material the wheels are made of.
Various materials will suit different types of floors and not all wheels will be suitable for use on the carpet.
Choosing the wrong type may cause your carpet to tear up and destroy your carpet. In the best case, these poorly chosen wheels will leave ugly marks or scratches.
The best material for office chair wheels intended for use on carpets is polyurethane or hard nylon.
Nylon wheels are more suitable for low pile, thin carpets, as they can cut through the texture of the thick carpet.
Therefore, if you decide on buying nylon office chair wheels, it would be good to purchase a twin wheels model.
Besides keeping carpets safe, polyurethane also provides smooth movement and solid control over your chair.
Framing Material
Besides the wheel itself, it's important to carefully consider the material the frame is made of.
For a couple of reasons, the absolute best option here is the premium-grade stainless steel.
Steel is very strong and will be able to withstand heavy-duty daily use without significant wear and tear.
This will ensure the durability of your office chair wheels and maintain their optimal performance for years.
Plus, stainless steel, as its name says is resistant to rust, so your wheels will function for a long time without much maintenance.
Similar to the frame, chair wheel bearings should also be made of stainless steel.
As they don't rust and have lower friction, stainless steel bearings will hold up great even after a longer period of use.
Carrying Capacity
The load-bearing capacity of the office chair is often ignored when purchasing office equipment.
One of the crucial factors contributing to the weight a chair can carry is the wheels.
If you're the only person who will be using the chair, make sure that the wheels can support your weight.
Most office chair wheels can support between 300 and 650 lbs., but as you can see on my list, some models can withstand even up to 1,000 lbs.
Wheel Stem
The stem of the caster wheel may not be the first thing you think about when shopping for office chair wheels, but it's a crucial part that plays a major role in supporting the weight of the chair.
It's the part that is under the most strain, so it's important that it's made of durable, sturdy, and high-quality material.
Another important factor is stem fit.
As the stem is the part that connects the wheel to the chair, it needs to be compatible with the chair's socket.
Prior to purchasing a set of wheels make sure that the stem fits your chair.
It's worth noting that 7/16″ x 7/8″ is the most universal stem measurement that will fit the majority of office chairs manufactured in the US.
Wheel Design
The design of the wheels will be crucial for how durable, strong, and functional the wheels will be.
Of course, you'll also want your caster wheels to look good and complement the visual design of your office chair.
Thin casters with less contact area with the surface are the ones that allow the easiest control and smooth movement across the floor.
Additionally, you'll need to apply less force to move the chair with this type of wheels.
On the other hand, thicker wheels are great for hard and flat floors but will restrict movement on high pile carpets.
They're better suited for hardwood or similar floors. Furthermore, single-wheel casters will provide easier movement on the carpeted surface, compared to twin wheels.
How do I Stop My Office Chair from Digging up the Carpet?
Purchasing the best office chair wheels for carpet and replacing the old ones is probably the most efficient way of protecting your carpeted floor.
Wheels that are not designed for this particular use can dig up the carpet, leave marks, tear it up, and permanently damage the floor surface.
However, besides a new set of wheels, there are a couple of other things you can do to stop the office chair from digging up and damaging the carpet.
Put Something Underneath the Chair
If you're constantly having issues with your chair damaging the carpet, try to create a buffer area between the carpet and chair wheels.
Furniture stores commonly carry mats specifically designed for this purpose.
There's a variety of options to choose from, depending on the type of wheels and the type of carpet.
Alternatively, if you don't want to buy a chair mat, you can use an extra piece of rug to provide another layer of protection.
Sometimes, even a piece of cardboard or posterboard can do the trick.
Make Sure Your Chair and Your Working Area are Clean
You've probably noticed that your chair is a real magnet for dust and other kinds of dirt.
Additionally, these dust and dirt particles often end up on the carpet.
The dirt and dust can create extra friction between the carpet and the office chair wheels, leading to damage and ugly markings or scratches.
To prevent this, make sure that your chair, especially it's lower part, is always clean. Also, don't forget to regularly clean and vacuum your carpet.
Occasionally, you can use a steam cleaner to make sure that even the deepest dirt is removed.
Check Your Office Chair Wheels Regularly
Even the most durable and best office chair wheels for carpets have a certain lifespan.
Over time, their edges may become rough or jagged which will cause wheels to dig up the carpet and damage it.
So, from time to time, check the state of the chair wheels and replace them with new ones if necessary.
Conclusion
If your office chair wheels are ruining the carpet floor, there's an easy solution to your problem.
Simply replace the wheels with new ones, more suitable for use on carpet floors.
You'll certainly have plenty of options to choose from, but not each of them will prove optimal performance and functionality.
The suggestions on my list are all decent options that can solve your issues and you can hardly go wrong with any of them.
Still, my top recommendation is Lifelong's replacement casters.
These wheels are durable, versatile, and will provide a distraction-free work environment.