How to Organize a Small Kitchen Pantry?
No matter how big it is, the pantry is the heart and soul of the entire kitchen.
While a larger pantry will provide more than enough space for everything you use in the kitchen on a daily basis, a smaller pantry, with a little bit of organization, can also serve you pretty well and be as effective as the more spacious ones.
However, to achieve this, you'll need to get creative and put in some effort into making your small pantry effective.
Not all of us are lucky enough to have a huge and luxurious walk-in pantry like the ones we often see on TV, but if you're not well organized, no pantry will be big enough.
Below. I'll share a few tips on how to organize a small kitchen pantry and make the best use of the available space.
How to Organize a Small Kitchen Pantry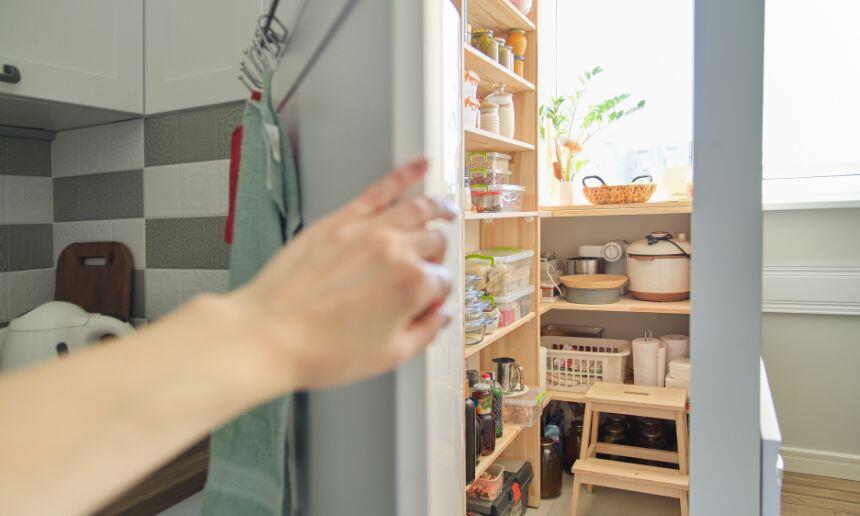 Having a well-organized kitchen pantry will not only allow you to store everything you need to prepare meals every day but also reduce the daily stress, making the entire cooking process much smoother.
Even though a large pantry will offer more possibilities, a smaller one, with some attention and proper organizing, can also work pretty well and provide enough room for all your kitchen needs.
The process of making a pantry with limited square footage more useful is not that complicated, and going through a few simple steps will get you to use the available space to the maximum.
Getting Started
Before you move on to organizing the storage of various kitchen items in your pantry, you'll first have to properly prepare it by cleaning it and getting rid of everything you don't actually need.
The first step is removing everything from your pantry and sorting it into different piles according to how essential each item is.
Some of the items you will keep in the pantry, while others you may move elsewhere, donate, or simply throw away.
You can sort the items you deemed essential into categories that may include baking items, snacks, pasta, canned food, fruits, and others.
While the pantry is empty, you should clean it from top to bottom, wiping down the walls, shelves, and any crevice you may reach with a wet rag.
Once everything is out of the pantry and the pantry itself is clear start picturing how best to organize all the necessary items.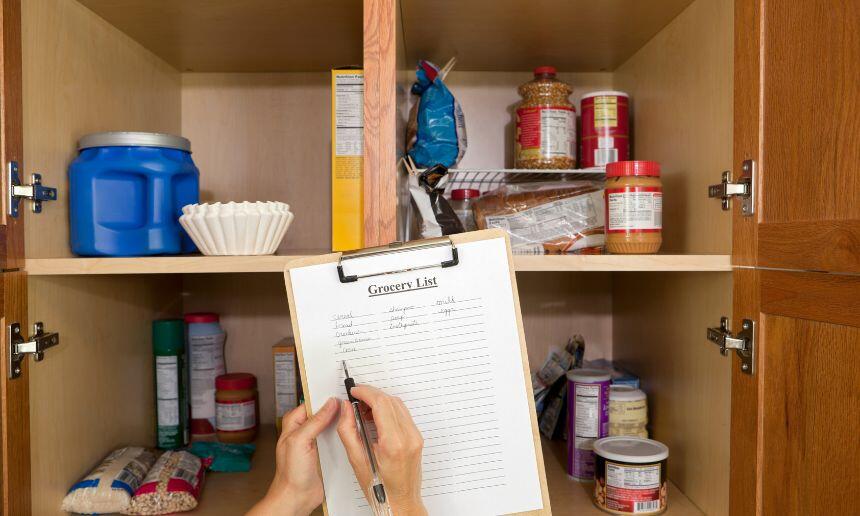 Make the Most Use of a Vertical Space
If you have limed square footage to work with, using every niche available will be essential. This means going as high as you can.
If possible, add shelves that will cover the entire space of the pantry, from floor to ceiling.
While this may make some of the items in the pantry hard to reach, with a little bit of organization, you can make those that you use every day easier to get, while the lesser-used items and extra items will be kept on the higher shelves.
In a pinch, you may even use a ladder for easier access.
Don't Forget the Wall Space
When working with limited space, you'll need every inch you can get and pantry walls are often overlooked in this regard.
Even the walls that don't have shelves on them can be rather useful in providing some extra space that can prove to be very useful.
To make sure you use your walls to the maximum, add hooks at any place you can. You can even hang baskets from some of those hooks.
Place Boxes and Bags on Their Sides
Various bags and boxes will likely take up most of your pantry space, especially when they're scrunched up.
However, if you store them flat and on their sides, they'll be much easier to neatly stack up, occupy much less space, and allow you to store more items.
Use Tension Rods
Tension rods can help you save some space, as they allow you to vertically store all your baking sheets, cutting boards, or muffin tins.
This way they won't be just piled up and will not only take less space but be more accessible and easier to find.
If you only have a pantry cabinet, a tension rod in the back is a great way to create an instant shelf for various spices.
The Door Is a Useful Storage Space, Too
If your pantry is basically a cabinet, then you can equip the door with some extra hooks and use them to hang pot holders.
This is particularly convenient, as these are the sort of items that are usually in the way.
Plus, the door organizer can help you get some extra space for bottles, spices, or anything else that may fit there.
Use Pantry Baking Cart
A pantry baking cart is a great way to add some extra space when you have a small pantry.
Besides being very practical as extra storage, the pantry baking cart is very convenient, as you can use it to keep ingredients you'll need in your daily meal preparation.
Plus, as it's mobile, you can simply wheel the cart out of the way whenever you don't need it. Furthermore, a pantry baking cart can add a bit of extra charm to your kitchen.
You can decorate it any way you like, providing a touch of style and sprucing up this often dull environment.
Conclusion
A key to your comfort in the kitchen is a good organization. We are often forced to work with limed space, so, some planning is necessary to make the most of it.
While a small pantry can feel limiting and an obstacle in your everyday meal preparation, organizing it in the right way will allow optimal usage and price some extra storage space for anything you need at the reach of your hand each day.
Plus, it can be part of the kitchen where you can employ your creativity and add some personal touch to the entire space.
So organizing a small kitchen pantry may seem stressful, but it can actually be a fun little project.
You can do it every couple of months to make sure everything is in order and all the items inside the pantry are absolutely essential.