Klearvue Cabinets vs Ikea – A Comparison
Remodeling your old kitchen or designing a new one can often feel rather overwhelming and stressful.
This is especially true when it comes to picking the right brand and type of kitchen cabinets.
These elements will play a huge role in how your kitchen will look and feel like, as well as the functionality of this part of your house.
When shopping for cabinets, you'll notice that there are plenty of options available on the market, so finding the right one can be tricky,
Two brands that you are very likely to come across during your research, as they often near the very top of the best kitchen cabinet lists, are Klearvue and Ikea.
Both Klearvue and Ikea are highly popular and known for producing high-quality kitchen cabinetry.
If For those that have narrowed their choice to these two brands, I'll compare Klearvue cabinets vs Ikea and explain how they differ.
So let's get into it.
Klearvue Cabinets – Information
One of the most popular cabinetry brands, Klearvue is among the best solutions for those looking to install cabinets that have a stylish design and decent quality but can still be purchased at rather affordable prices.
While they're exclusively at Menards stores, Klearvue cabinets have for years been among the most popular on the market.
One of the main advantages of Klearvue cabinets is their customizability and wide range of potential options.
With 13 different styles to choose from and 40 different box sizes, the possibilities of finding the configuration that will perfectly fit your kitchen are practically endless.
To make things even easier, when shopping for Klearvue cabinets, you can use Menards' U Create software, which allows you to pick the best cabinetry layout, shape, and design for your specific requirements.
Furthermore, despite the lower price point, Klearvue cabinets are very durable and easy to install and maintain.
Ikea Cabinets – Information
Probably one of the most popular, if not the most popular furniture brand, Ikea has for long been a synonym for affordable, stylish, and easy-to-install interior design elements.
The cabinets coming from this Swedish brand are no different and are certainly at the very top of the industry both for their quality and design.
Ikea cabinetry hit the sweet spot where you can get fairly durable and sturdy products without having to go way over your budget as is the case with most upper-class brands.
While you won't find any solid wood cabinetry here, most Ikea cabinets are made of MDF which is the next best thing, and, along with a laminate finish, guarantee that this cabinetry will serve you for years.
Similar to Klearvue, Ikea also features a wide range of options and offers an online tool where you can plan the layout of your kitchen to the smallest detail.
Klearvue Cabinets vs Ikea Cabinets – What's the Difference?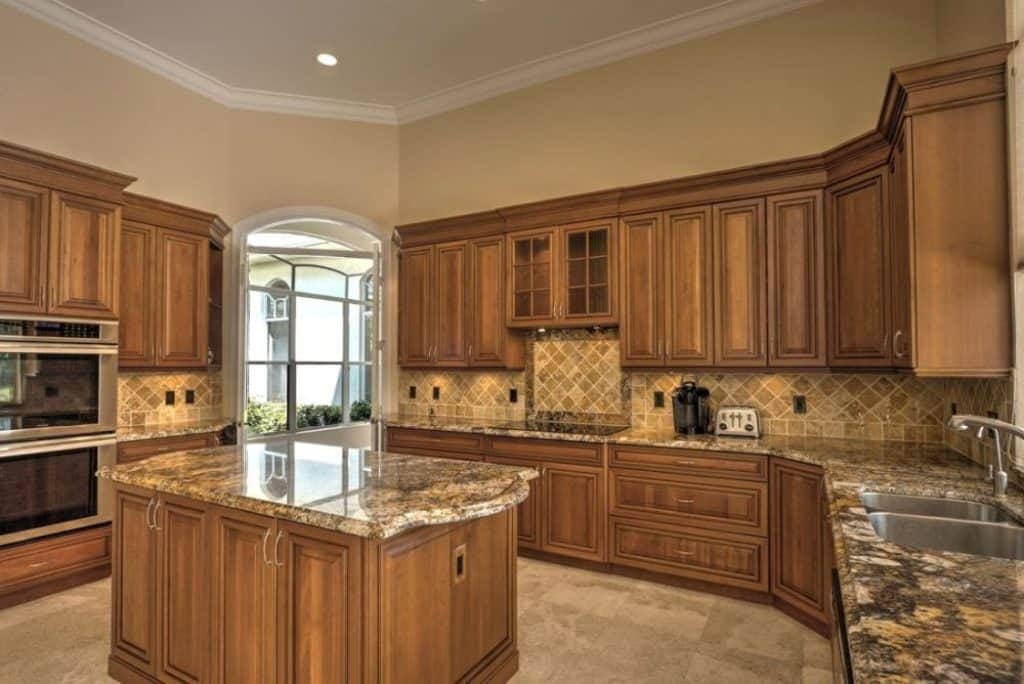 The Klearvue and Ikea cabinetry products certainly have a lot in common.
Cabinets from both brands are in a similar price range, offer customers a high degree of customizability, come in modern and stylish designs, and are only available in specific stores (Menards and Ikea).
Still, a closer look at Klearvue and Ikea cabinets reveals certain differences that are worth considering if you have narrowed your choice down to these two brands.
Below is a brief overview of the main distinction between Klearvue and Ikea cabinetry.
Style and Design
No matter if you opt for Klearvue or Ikea, you'll get a chance to choose between numerous styles and design options.
Ikea has a slight advantage here, as it offers a wider range of available finishes, colors, and styles, although all their product fit the world-famous Scandinavian contemporary design.
In addition, Ikea provides its customers with more customizability options, while Klearvue is more focused on pre-made designs, even though it still allows a certain degree of freedom when choosing the best option for your kitchen.
Quality
Neither of these brands is known for the premium quality of their products, yet both of them still manage to provide more than decent durability and strength for their cabinets.
Again, Ikea is the one that scores higher on these criteria, as the Swedish company's products meet higher quality standards compared to Klearvue.
Most of the cabinets coming from Ikea are made of medium-density fiberboard (MDF) and feature wood veneer or laminate finish which provides a satisfying degree of durability and fairly decent resistance to wear and tear.
On the other hand. Klearvue cabinetry is typically manufactured from engineered wood and has a melamine finish.
This type of material lowers the overall cost of the products but is inferior in terms of quality to MDF or solid wood.
Assembly
No matter if you purchase Klearvue our Ikea cabinets, you should be prepared to do some installation work by yourself, as neither of these brands delivers fully assembled products.
Still, the cabinets from both brands are rather easy to install, especially Ikea, which is famous for its modular design and easy-to-follow instructions.
Klearvue cabinets are not much more complicated but still are likely to require a bit more time and effort to install.
Which is Better Klearvue Cabinets or Ikea Cabinets?
You're more than likely to be satisfied with cabinets form both of these brands, so no matter which one you choose you will end up with durable and stylish kitchen elements.
Still, Klearvue seems to be a better choice if you're working with a tight budget as it features more options in the lower price bracket,
On the other hand, Ikea offers more overall design options, is more widely available, and their products will provide more quality and longevity.
Conclusion
When you're remodeling the kitchen or building a new one from scratch, cabinets are likely to be the biggest and most important item, both in terms of cost and the overall functionality and aesthetics of the kitchen.
So, finding the right one will certainly require careful consideration and some research.
Homeowners that operate on a limited budget are hardly to find better options than Ikea or Klearvue cabinetry.
Both brands are known for striking the ring balance between affordability and quality, so you can find items that will serve you well and for a long time without breaking the bank.
The choice between the two will mostly depend on the existing kitchen layout, budget restrictions, as well as your personal design preferences.