Sherwin Williams Cashmere vs Emerald – A Comparison
The key to a properly done paint DIY project is selecting the right paint.
All the hard work and attention to detail won't matter much if you haven't dedicated some time to carefully considering which color and sheen is right for the surface you're painting.
The final result of your paint job and the overall look of the space you're working on will pretty much depend on it.
However, as you'll notice when you walk into any home improvement or painting equipment store, the range of available paints is wide and often overwhelming.
So, learning about what each type of paint can deliver is essential.
In this article, I'll focus on one of the most established brands in the industry – Sherwin Williams.
To help you find the best paint for your project, I'll compare Sherwin Williams Cashmere vs Emerald, two of the most popular paints offered by the company.
So, let's dive in!
Sherwin Williams Cashmere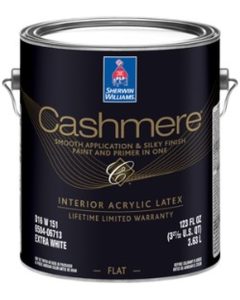 Even though it's considered an entry-level paint in the Sherwin Williams line, Cashmere can provide performance that can easily stand up to some of the more expensive products.
The main area of Cashmere's application is residential paint jobs where it's often used for larger projects due to its affordable price compared to other paints designed for similar use.
Cashmere has non-stick properties which makes it rather simple to apply, as it easily releases for the roller or the brush.
It's available in several different finishes, from classic flat enamel to eggshell sheen. Therefore, it can be used to paint different rooms with varying degrees of lighting.
In addition, Cashmere is fairly durable for its class of paints and can be easily cleaned and maintained because it's highly scrubbable,
Still, it's not perfect for rooms with a high level of moisture as it doesn't feature full mildew and mold protection.
Sherwin Williams Emerald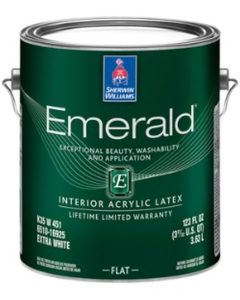 Since it first emerged on the market in 2012, Emerald has been among the most popular paints by Sherwin Williams.
It belongs to the top of the line of the company's products, both in terms of performance and price.
It provides a smooth, luxurious finish that can keep its full color for years. Plus, it works great to hide any previous color you had on the surface, even the darkest ones.
Emerald is also highly stain-resistant and will easily deal with water streaking and spotting. This is particularly important as Emerald is designed for use both indoors and outdoors.
As it's both the paint and the primer in one, it provides great coverage, while being fairly easy to apply.
Usually, one coat will be more than enough. Furthermore, Emerald features anti-microbial agents that prevent mold and mildew development, so it can be used even in poorly ventilated rooms.
Sherwin Williams Cashmere vs Emerald – Similarities
When comparing Sherwin Williams Cashmere vs Emerald, it's obvious that there are plenty of similarities between the two paints which is understandable as they're the products in the same company's line.
So even though the final result will differ, they have the same basic purpose and way of application.
Below are some of the key similarities between the two products.
Type of Paint
Both Cashmere and Emerald from Sherwin Williams belong to the same basic type of products – acrylic latex paints.
What this means is that each of these paints is dissolvable in water and both feature resin as a binding agent.
Acrylic paints are particularly popular among homeowners who have less experience with painting.
This is because they're generally simple to use, can be easily cleaned with just water and soap, and are fairly economical.
They tend to dry quicker than oil-based paints and don't emit such a strong odor. Plus, in most cases, they provide great coverage and hold color for a long time.
Paint and Primer in One
One of the most useful features of Sherwin Williams Cashmere and Emerald products is that both of them are self-priming.
This means that they feature a primer in their formula, so they can be used as both the primer and the paint.
This reduces the amount of work needed to get a paint job done and improves the overall coverage you'll get.
Still, sometimes, it may be a good idea to use the primer before applying Cashmere or Emerald.
This is particularly the case when you're painting over a previous painting of a particularly dark color and changing it into a lighter tone or pastel shade.
Safety – Volatile Organic Compounds (VOC)
Most paints, as they dry off, release volatile organic compounds (VOC) in the air.
These compounds can be very damaging to health, both short and long-term, even causing cancer in some cases.
Therefore, levels of VOC contained in the paint are very important and regulated by the Environmental Protection Agency.
As a reputable company, Sherwin Williams adheres to these mandates and keeps the level of VOC in their products below the maximum limit of 250 grams per liter (g/L) for flat finishes and 380 g/L for other finishes.
This includes both Cashmere and Emerald, as each paint is compliant with the regulations.
They each contain less than 50 g/L of VOC which makes them safe for use both indoors and outdoors.
Still, you should make sure that the room you're working in is well-ventilated and air it out for a couple of days before moving back in.
Time to Dry
Both Cashmere and Emerald intended for interior use have fairly quick drying times, which significantly reduces the amount of time needed for a painting project.
Both are dry to touch after only one hour and are ready for the second coat, if needed, in four hours.
The exception is Emerald paint for exterior use which takes a bit more to dry off. It's dry to touch in two hours, while the second coat can be applied after a day or two.
Coverage
No matter if you purchase Sherwin Williams Cashmere or Emerald, you'll get equal coverage.
For each paint, with a gallon of each, you'll get somewhere between 350 and 400 square feet of coverage.
Color Combinations
Cashmere and Emerald also offer the same range of available color combinations.
They both feature no less than 1,700 different color combinations, which should be more than enough to find the one that will perfectly suit your project.
Sherwin Williams also features handy online tools that can help you find the color that will be a great match for what you had in mind for a certain surface in a room.
Sherwin Williams Cashmere vs Emerald – Differences
Of course, while they have some similarities when deciding whether to purchase Cashmere or Emerald paint, you'll mostly be interested in differences.
Make sure that you carefully consider what type of painting project is ahead of you and every aspect of the job before choosing the paint accordingly.
What works for one painting job may not work for the other. The main ways that these two types of Sherwin Williams paints differ are listed below.
Interior/Exterior
Probably the most essential difference between Cashmere and Emerald is the area of intended use.
While both of these paints can be used for indoor painting jobs, only Emerald line has an option for exterior painting.
Therefore, if you need some painting work done on the exterior of your house, Emerald paint is the one to choose.
Volume Solids
Another major difference between Cashmere and Emerald is the level of volume solids.
Volume solids are, basically, the parts of the paint that remain on the wall after it dries off. They consist of pigment, additives, and binding agents.
If the paint has a higher level of volume solids, it will be thicker, provide better coverage, and, eventually, last longer.
So the higher level of volume solids, the better.
Both Cashmere and Emerald have a high percentage of volume solids, especially compared to some cheaper paint brands.
Still, depending on the type of paint, Emerald generally features a higher volume solids level than Cashmere.
The product with the highest volume solids percentage is emerald exterior paint with a flat finish, approximately 42%.
On the other hand, the lowest percentage is in Cashmere medium lustre and Emerald interior semi-gloss, around 37-38%.
Range of Finishes
To make the room look exactly as you want, besides different colors, you should pay attention to the range of available finishes for a certain paint line.
When it comes to Cashmere paint, you can choose between four different finishes: eggshell, pearl, medium and low lustre, and flat.
The Emerald line of paints offers a slightly different selection of available finishes, both with the interior and exterior formula.
The interior version of Emerald comes with flat, matte, satin, and semi-gloss finishes. The exterior Emerald features only flat, satin, or gloss finish.
If you're having doubts about what finish to choose, you can visit a guide to selecting a finish on the Sherwin Williams web page.
Durability
While Cashmere has more options when it comes to finish and provides a great-looking and smooth end result, Emerald is more durable and designed to withstand all the requirements of heavy-duty family life.
Plus, it's more resistant to stains and water spotting and streaking, so it will keep the impeccable look longer.
In addition, the exterior line of Emerald paints is very resistant to all the damage that may occur outdoors.
Most likely, you won't have any issues with blistering, peeling, or fading, plus the Emerald coat will repel the dirt.
Mold and Mildew Protection
When it comes to protection from mold and mildew, the advantage is clearly on the side of Emerald.
It features anti-microbial agents which work to prevent mildew in the more moist areas.
Due to the mold/mildew inhibitor, it can be safely used in areas such as bathrooms or kitchens that typically feature a higher level of moisture.
On the other hand, as it's rather susceptible to mold and mildew, Cashmere is mostly recommended for drier and well-ventilated rooms.
Price
The price of the paint you plan to purchase will generally depend on the chosen finish.
However, Cashmere is generally more budget-friendly and will, in most cases, cost less than the Emerald line of painting products.
On average, Emerald paints are around 20% more expensive.
Of course, the exact price you'll pay for these products will depend on many factors, including where you purchase it, the overall quantity, potential special promotions, etc.
Sherwin Williams Cashmere vs Emerald – Which is Better?
The answer to which one of these two paints is better depends on several factors, including the type of painting project, the location of the surface to be painted, and your budget.
Cashmere is very easy to apply and probably one of the simplest paints to apply.
It will deliver a perfectly smooth finish, and solid coverage, and provide a good choice of different sheens.
Plus, it's the cheaper of the two, so it may be more suitable for larger projects.
Emerald will not provide such a nice finish as Cashmere and it's slightly more difficult to apply, but it's still more than satisfactory in both of these aspects.
The advantages are that it's more durable, stain-resistant, better at hiding imperfections, and easier to clean.
In addition, it offers much better protection against mold and mildew. Ultimately, it's much better suited for painting high-moisture areas or exterior surfaces.
Conclusion
When choosing a paint, a good rule of thumb is to always go with established and proven brands.
One of the most reputable brands in the pain industry is certainly Sherwin Williams and you can hardly go wrong with any of their products.
This certainly includes Cashmere and Emerald, two pain lines that are among the company's bestsellers.
Whichever you choose, you can be certain that you're getting a quality product that can provide a good-looking and quality finish.
Still, the type of project you have planned will dictate which one of the two will deliver a better outcome in the particular area you're painting.
Make sure to do your research prior to purchase, so you can be 100% satisfied with the results.