Sherwin Williams SuperPaint vs Cashmere – Which Is Better?
Painting is often a daunting task, but even before you start, there's a lot to do in advance.
Most importantly, choosing the right sheen and color.
When it comes to choosing paint, it's always a good idea to go with reputable brands, as they are usually a guarantee of a quality product.
One of those trusted and tested brands is certainly Sherwin Williams, one of the most popular paint manufacturers both among the homeowners and contractors.
However, like most brands, they offer a variety of different paint types, which can make finding the right one for you all the more confusing and overwhelming.
To clear things up a bit, I'll compare two of the best-selling paint types by this company, Sherwin Williams SuperPaint vs Cashmere.
Below, you'll learn how they differ, what are their advantages and downsides, and which one may be perfect for the painting job you have planned.
So, let's dive in!
Sherwin Williams SuperPaint – Information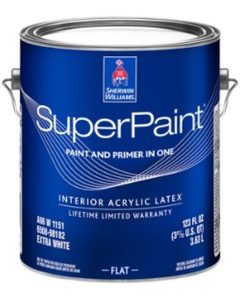 A mid-price option from Sherwin Williams, SuperPaint is mainly intended for interior walls and ceilings.
It works both as a paint and a primer, which is a big bonus as this cuts down your work in half.
It's very thick and flexible, allowing you to cover more surface and use fewer coats than with some of the cheaper paints.
In most cases, two coats should be more than enough to achieve a solid, uniform, and flat finish.
Plus, it works pretty well to cover whatever the surface beneath is. Furthermore, there are several different sheens for you to choose from.
Sherwin Williams SuperPaint is also rather durable and as an acrylic latex paint, it can be cleaned using only soap and water.
While the paint will have a rather strong odor during painting, once dried it will work to absorb household odors making your home more comfortable to live in.
Sherwin Williams Cashmere – Information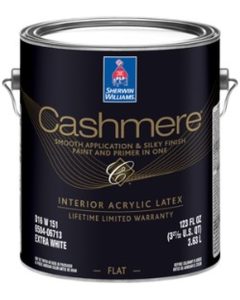 Cashmere is an entry-level latex paint type offered by Sherwin Williams, but its performance in many ways matches more expensive products.
Its main characteristics make Cashmere more suitable for residential paintwork and, due to its somewhat affordable price, it's often used for larger projects.
The application of Cashmere is relatively simple due to its non-stick properties and it easily releases for the brush, roller, or any other equipment you might be using.
There are four different types of finishes available, from classic flat enamel to eggshell sheen.
This makes Cashmere suitable for use in different rooms with varying degrees of light and different light sources.
As it is highly scrubbable, Cashmere is fairly easy to clean and maintain and offers decent durability once painted on the room walls or ceiling.
However, it's not recommended for areas with higher moisture as it doesn't provide full protection against mold and mildew.
Sherwin Williams SuperPaint vs Cashmere – What's the Difference?
Both SuperPaint and Cashmere are durable, easy to clean, and provide a lot of options when it comes to sheen and color.
While you can hardly go wrong using either of these, there are still some differences that make each more suitable for certain tasks.
Depending on what you want to achieve and the available budget, you may find one of them to be a better fit for your painting project.
Below, I'll list some of the major distinctions between these two Sherwin Williams paints.
Finish and Color
When it comes to available finishes the advantage is on the side of Cashmere.
It's available in four different finishes: flat, medium luster, pearl, and eggshell. SuperPaint features only three: flat, satin, and semi-gloss.
While both paints have flat finishes, providing a non-reflective and matte appearance, things differ when it comes to glossy finishes.
However, neither of these products comes in a high-gloss variant. Both Cashmere and SuperPaint feature no less than 1,700 basic color combinations.
In addition, when using SuperPaint you can also choose from additional 540 colors from Living Well Collection.
Durability and Maintenance
With regular maintenance, both of these paints will keep the wall coating in fairly good condition for years.
Of course, a big factor in how often you'll have to repaint is how easy to clean the paint is.
This is particularly important for big families with kids, as in these situations walls can get dirty in no time.
SuperPaint is relatively easy to clean, especially if you're using a semi-gloss finish.
However, the advantage here is clearly on the side of Cashmere as it's very easy to scrub and clean any stains and dirt that may appear in its lifetime.
Protection
SuperPaint's main advantage over Cashmere is that it will work better in unfavorable conditions. This is particularly important for more moist and poorly-ventilated parts of the house.
Unlike Cashmere which only offers limited protection, SuperPaint features anti-microbial agents that work to prevent the development of mold and mildew.
Furthermore, SuperPaint has a zero VOC (volatile organic compounds) formula with air purifying technology.
This means that the paint will help keep the house air fresh and clean.
Finally, SuperPaint is also more successful in eliminating unpleasant odors from the surrounding.
Which is Better Cashmere or SuperPaint?
Which of these two Sherwin Williams paints will be better for you mainly depends on the type of painting project you plan to use the for.
Cashmere delivers more than satisfactory results for all your basic and regular painting needs.
It provides a smooth finish, is simple to apply, and easy to clean. Cashmere is also more affordable, which makes it more suitable for larger jobs.
SuperPaint is best when used in more challenging environments, with unfavorable conditions regarding moisture and ventilation.
A lot of homeowners, due to its lower price, use Cashmere for the majority of surfaces in the house and go with SuperPaint in the kitchen and bathroom,
This is where it's more effective in preventing mold, purifying air, and repelling foul odors.
Conclusion
With such a huge number of painting products available in every home improvement store, it's often hard to choose and find the right one.
So, some research is necessary before engaging in any painting projects.
The two paints described above, Sherwin Williams' SuperPaint and Cashmere are certainly the options that should be at the top of your list.
While they have some significant differences, each of them excels when used for particular types of jobs.
Cashmere is more affordable and will answer most of your basic painting needs.
SuperPaint will take a bit more of your budget, but also offer some additional features, especially when it comes to protection and durability.