Should I Paint or Stain My Barn Door? (The Pros and Cons)
One of the best ways to make your home more elegant and stylish is to install a barn door.
Thanks to its beautiful and classy finish, a barn door will provide some character even to the dullest interior spaces.
Plus, this type of door is highly functional, as the sliding mechanism will allow you to make the most of the available space and install them in places where standard hinged doors wouldn't be practical.
Furthermore, barn doors offer a lot of versatility and can feature limitless combinations of wood types, finishes, and colors.
One of the key decisions you'll have to make when installing a new barn door, or reviving an old one, is what type of finish to use.
You'll probably find yourself asking "should I paint or stain my barn door?"
Below, I'll explain both approaches, so you can easily choose the one that's more suitable for your home.
So, let's dive in!
Should I Paint or Stain My Barn Door?
To be able to make an informed decision and choose the best approach for your barn door, it's important to first understand what both painting and staining can bring when it comes to the door finish.
The most important difference between these two techniques is that pain will remain on top of the wood and be visible, while the stain will get soaked by the wood.
This also means that painting provides more options when it comes to colors and sheens. Plus, it can be applied to a lot more surfaces.
With stain, you won't have that many options, but will still be able to choose between matte, flat, or ultra-flat finishes.
To help you better understand the differences between the two, I'll go into more detail and explain the advantages and downsides of both painting and staining.
Painting the Barn Door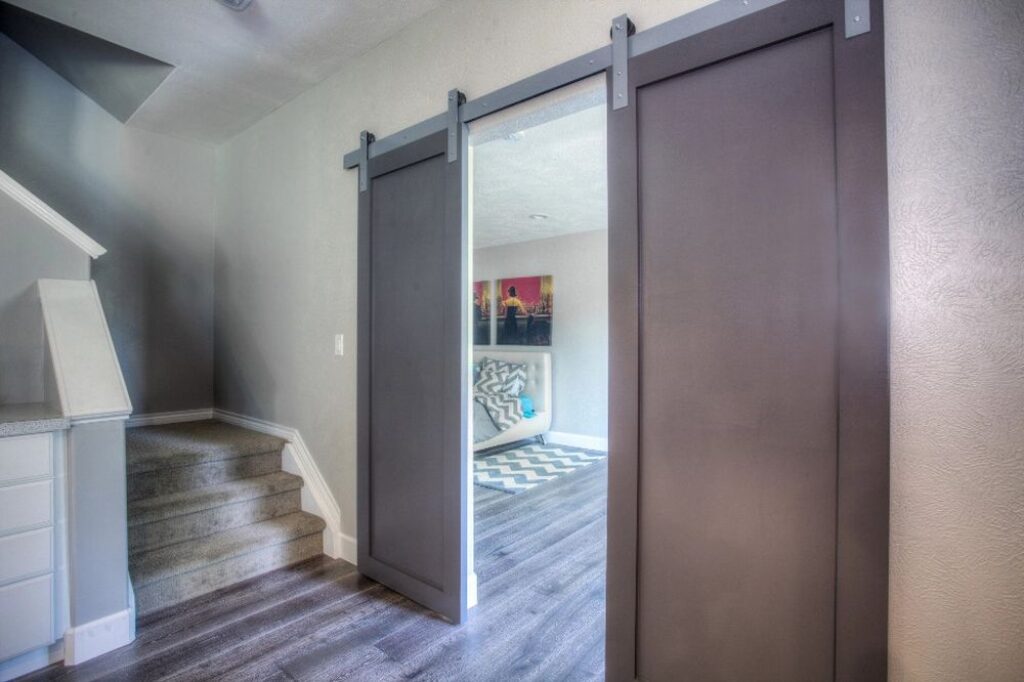 Pros
As I already mentioned, the biggest advantage of painting the barn door as opposed to staining it is the variety of different colors available.
Plus, you'll be able to choose between different types of paints. Typically, for indoor purposes, you should use either acrylic or enamel paints.
This allows you to easily fit the barn door color with the rest of your interior decor elements.
Another advantage of painting is that the process itself is a bit simpler and can be done with basic tools you probably already have around the house.
Cons
One of the significant downsides of painting the barn door is that if you decide to repaint it, you'll have to entirely strip the old paint and do it all over again.
This may not seem like much of a problem, but you will likely have to do it if you decide to redecorate the room and change the color scheme, especially if you initially picked a color that was trendy at that moment.
Also, while the process itself is simple, the painting will likely end up costing you more than staining the barn door, as you will need multiple coats of paint, and potentially a sealer on top of it.
Staining the Barn Door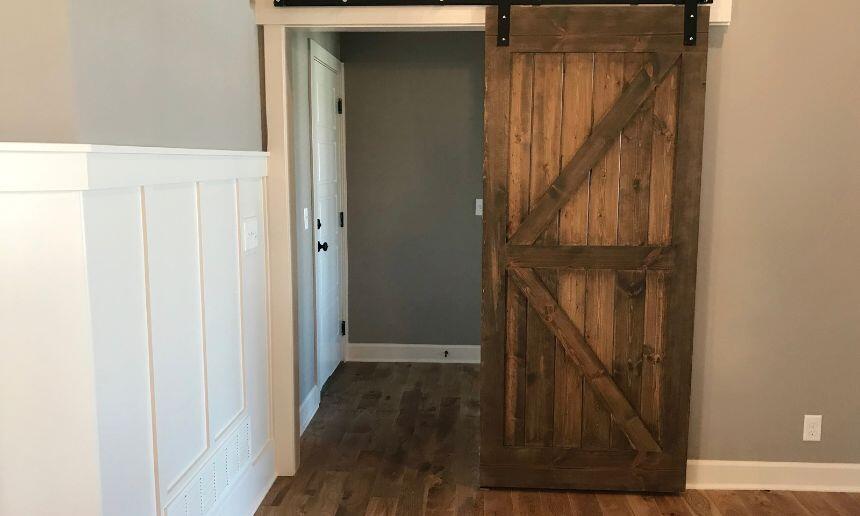 Pros
Staining the barn door is your best option if you want to go for a more natural look. The stained door will have more character and all the knots remaining visible will add to its unique appeal.
This is particularly the case with barn doors made of beautifully grained woods, such as Red Oak or Victorian Ash.
Plus, the stain will be more durable and won't peel off that quickly.
Modern stains feature UV protection, so even the doors that are directly exposed to the sun will keep their good looks for a long period.
Also, staining your barn door will provide it with a certain level of moisture resistance, ensuring that it won't warp over time.
Plus, the stained door won't fade after repeated washing as may be the case if you paint it.
Cons
The process of applying stain is fairly complex and certainly more difficult than applying paint. The stain has to be applied correctly and evenly, which takes skill and experience.
So, in most cases, the job of staining the door may be best left to the professionals. Another downside is the lack of options when it comes to available colors.
Typically, you can only choose between light and dark stains, and the most you can do is enhance the natural color of the wood.
In addition, the end results are not that uniform, as they will depend on the type and cut of the wood, as well as the application method.
How to Prepare Barn Door for Painting or Staining?
While the application process itself is different, the preparation steps are more or less the same no matter if you're going to paint or stain the barn door.
The first thing to do is, of course, to take the door off the mounting track and remove all the hardware.
Then, you should sand it with fine-grit sandpaper to even the surface and remove any sheen from the previous finish.
Make sure to sand in the direction of the grain. Also, it's a good idea to apply at least one coat of primer.
Conclusion
Barn doors will look great in almost any home and once you apply the appropriate finish, they will look even better.
The two finishing methods, painting and staining, both have their benefits and downsides, and which one will be better for you will depend on several factors.
If you want to go for a more modern look in the room, painting is probably the right option, as a large number of available colors and sheens can help you fit the barn door with the rest of the decor with ease.
Stain provides a more traditional and rustic appearance, and will match greatly with more classic pieces of furniture.
Staining the barn door will also make the whole room feel warmer and more natural.
So, to get the best results, carefully consider all these factors, so you can make an informed decision on which type of finish to choose.