Is Broyhill Good Furniture? Here's What You Need to Know
Furniture plays a significant role in shaping the style of a home and defines not only how a living space looks, but also how it feels.
It can serve both as a centerpiece and complement the other interior design elements.
Ideally, furniture reflects our personal sense of style and creates an enjoyable and functional environment for anyone spending time in the house.
With so many options available in the market, it shouldn't be that difficult to find furniture pieces that will suit any design style and enhance any type of home decor.
Nevertheless, besides style and aesthetics, a piece of good furniture should also meet high standards when it comes to functionality, durability, and quality.
These are the characteristics many homeowners prioritize when shopping for furniture.
Below, I'll explore whether one of the longest-lasting brands on the market meets these criteria and answer the question "is Broyhill good furniture?"
So, let's get into it
Is Broyhill Good Furniture?
Established more than 100 years ago, Broyhill is one of the furniture brands with the longest tradition in the United States.
Over that time, the company has gained a reputation for manufacturing well-crafted and durable furniture.
For decades, the focus of Broyhill was on delivering mid-market pieces of furniture and providing high-quality products at relatively affordable prices.
However, in 2019, the brand was acquired by one of the biggest discount retailers in the country, Big Lots, which led to the diversification of the product portfolio and the introduction of numerous items at lower price points.
However, even with the change of ownership, Broyhill still has plenty of offers to those looking for quality pieces of furniture.
Broyhill can still be considered good furniture and I'll go through all the key features of their products to explain to what degree they meet the high standards set by today's market.
Materials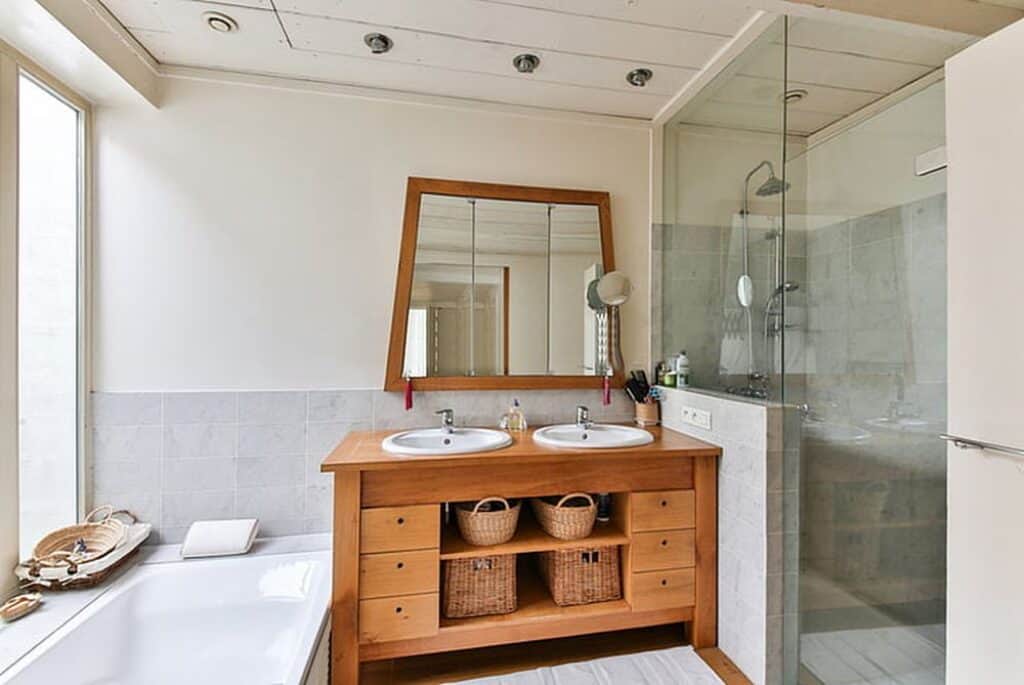 The biggest factor contributing to the longevity and quality of the furniture is the type of material a certain piece is made of.
It impacts the resistance of furniture to dents and scratches and influences its strength and durability.
For years, Broyhill furniture has been known to be made of premium solid wood, such as maple, cherry, or oak.
Of course, certain parts of furniture pieces, such as the backs of the dressers featured lower-grade wood.
After the takeover by Big Lots and the shift toward a more affordable price bracket, Broyhill furniture saw an increase in other, cheaper materials, such as plywood, metal, and glass.
Also, the current line of Broyhill products features a greater number of upholstered furniture pieces.
Still, the company hasn't completely moved away from using premium wood and many models are made of pecan, mahogany, or walnut.
Craftsmanship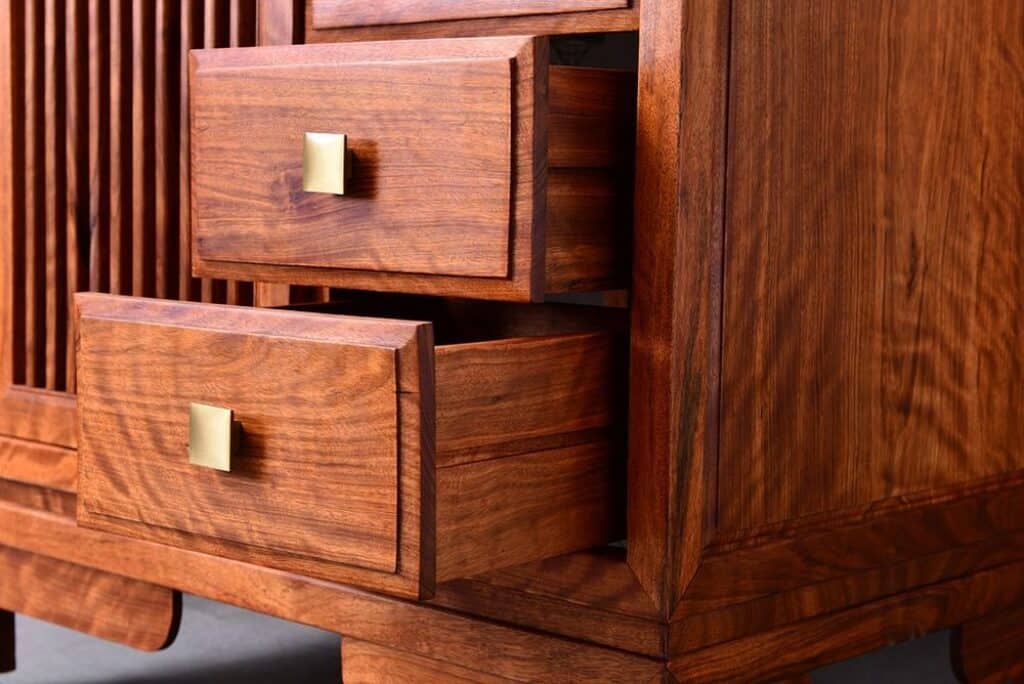 One thing that has always been the staple of Broyhill furniture is expert craftsmanship and the use of modern manufacturing techniques.
To this day, each piece of Broyhill furniture is crafted with attention to quality and detail and the manufacturing process is overseen by experienced craftsmen.
With such a long history, Broyhill is able to bring a level of expertise to their products that is hardly matched by any other brand.
The quality of construction and design of Broyhill furniture is best shown through several features that can be seen on almost every item that comes out of their factories.
Multi-Step Finish
Each wooden piece of furniture manufactured by Broyhill goes through several steps of finishing treatment.
This makes the furniture more durable and damage-resistant but also adds a touch of class and gives every item a more refined appearance.
So, you can expect every furniture piece you purchase from Broyhill to feature solid protection from wear and tear and, at the same time, to provide more elegance to the room you place it in.
Cut to Fit Wood
Every piece of wood used for Broyhill furniture is precisely cut to fit and sealed to the panels.
Doing this makes the entire furniture element more stable and strong, making sure it can stay in mint condition for years.
Corner Blocks and Screws
A lot of furniture brands, especially those whose products are in a similar price bracket as Broyhill, use staples to attach panels and other elements.
This makes the production process and the end product cheaper, but also negatively impacts the sturdiness and durability of the furniture.
Broyhill products, however, have attached corner blocks and screws, which means that those furniture pieces will remain sturdy and steady much longer, even with heavy use.
English Dovetails
Another feature that contributes to the overall quality of Broyhill products is the use of English dovetails.
This type of dovetail feature interlocking joints and allows manufacturers to produce furniture with drawers of greater capacity and better durability.
Typically, with this type of dovetails, you'll get at least a couple of inches of extra space compared to other techniques, as you can put the dovetail groove all the way to the edge of a drawer.
Choice of Rail Options
Broyhill furniture items come with two different rail options.
The drawers can feature either waxed wood on wooden glides or metal slide guides with ball bearings.
Which one will be better for you mainly depend on a personal preference as both options provide durability for the closing mechanism and make sure that you can close the units quietly and smoothly.
Safety Standards
With every piece of furniture that comes from Broyhill, you can rest assured that the safety of you and your family is guaranteed.
Broyhill products meet exceptionally high security standards, including anti-tipping protection, which is particularly important for families with small kids or pets that can turn the furniture over.
Durability and Warranty
Of course, when shopping for furniture, you want pieces that will serve you for years and provide peace of mind when it comes to potential damages and wear and tear.
We already established that Broyhill products are typically made of high-quality material ensuring decent durability of every piece of furniture.
However, in addition to this, the manufacturing process at Broyhill also involves certain steps, such as kiln-drying that further increase the longevity of each product and make them less susceptible to cracking, warping, or splitting.
Needless to say, all Broyhill products are covered with a warranty that protects you against potential defects.
Usually, the frame and springs come with a lifetime warranty, while the upholstery is covered with a 1-year warranty.
Still, with regular maintenance ad standard wear and tear, a typical Broyhill product, such as a sofa, should serve you at least 7-10 years.
Style and Design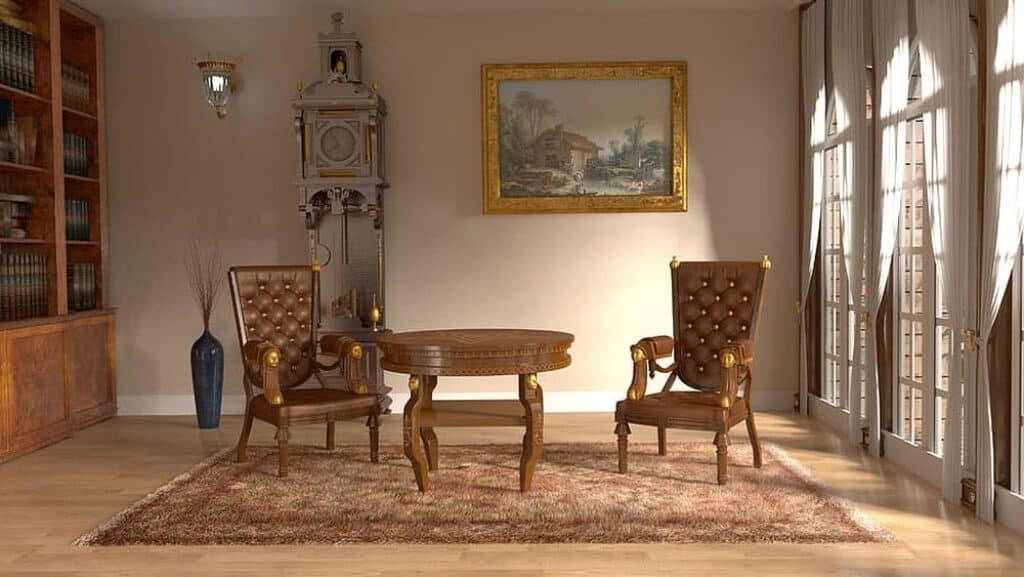 For a long time, Broyhill has been mostly known for its classic and rather simple style of furniture.
This traditional, timeless style and the quality of build are the reasons why vintage Broyhill pieces are still highly valued and often fairly expensive on the used furniture market.
The traditional pieces Broyhill is famous for include accent chests, classic dining tables, and wooden chairs. Many of these are still being produced.
However, with the Big Lots takeover, the Broyhill product line was expanded to include some more contemporary pieces, that can be a better fit for modern homes.
So, today, Broyhill customers can choose between a variety of styles and designs, ensuring that they can always find a piece that suits their home decor.
There are several product lines to choose from, including Broyhill Maison Lenoir, Broyhill Madison Court, Broyhill Vintage World, and Broyhill Canyon Ridge.
Comfort
One of the main areas that Broyhill focuses on is the comfort of their products.
The stylish design and durability of their products wouldn't be worth much if their furniture wasn't comfortable.
In general, most of the Broyhill furniture pieces, such as sofas, recliners, or ottomans, come with thick cushions that feature extra layers of supportive materials, such as premium foam, that guarantee superb comfort and coziness.
Where is Broyhill Furniture Made?
For almost a century, Broyhill furniture was exclusively made in the United States.
While the company was headquartered in North Caroline, Broyhill also operated a manufacturing plant in Arcadia, Louisiana, where most of their upholstered, leather, and plastic furniture are made.
Still, after Big Lots took over the ownership of the brand, Broyhill also added manufacturing points overseas, specifically in China.
While this is often a red flag in terms of quality, thanks to the strict oversight and high standard implemented in the overseas factories, Broyhill has managed to maintain a high quality of their products despite moving some of the production to China.
Conclusion
Customers purchasing Broyhill furniture can expect great choices of different items, with varying quality and prices.
However, even at the lower price bracket, you can always expect to get a good piece of furniture that will serve you for years.
There's a certain standard that every Broyhill product stands up to, no matter the price or material used.
So, the answer to the question "is Broyhill good furniture?" is a definitive yes, even with the change of ownership and a certain shift in the brand's strategy.
Even though they have been known for years for their vintage and traditional pieces, Broyhill today offers a larger variety of furniture products and you'll certainly find something that suits you taste, budget, and home style.