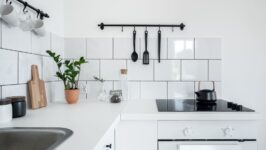 Unique Tiles Design Trends to Elevate Your Kitchen
Hey there, fellow home décor enthusiasts! Let's dive into the wonderful universe of kitchen design, where every tiny detail can turn your space from drab to fab. Since we know a thing or two about kitchen tiles, we can't stress enough how picking the right tiles can really amp up your kitchen's style quotient. In this post, we're gonna check out some kickass tile designs that'll make your kitchen the star of your home. So, brace yourselves for some serious kitchen makeover inspo!
Deciphering the Art of Kitchen Tile Design
The world of kitchen tiles is like a smorgasbord of tantalizing options, each more tempting than the last. Now, we've got the classics – ceramics, porcelain, and natural stone tiles. Why are they a hit, you ask? Well, not only do they whip up a visual feast, but they're also tough cookies, managing to look pretty while taking a beating.
But hey, don't let the sparkle blind you! Choosing the perfect tile design isn't just about falling for a pretty face. It's like a relationship – you need to consider the long-term. Durability, maintenance, and, yes, even budget matter in this love story. So, strap in, and let's find your perfect match in the tile universe!
Bold and Beautiful
Are you the kind who loves to make a statement with your décor choices? Then, bold tiles are for you. These graphic powerhouses can jazz up even the most minimalist of kitchens. From geometric patterns to quirky prints, these tiles add character and drama to your space. Plus, if you're bored with your kitchen's look after some time, you can simply switch up the tiles for a whole new vibe.
Going Green
As the world becomes more environmentally conscious, eco-friendly choices are all the rage. And kitchen tiles are no exception.
Recycled glass tiles or natural stone tiles like marble and slate not only look stunning but also reduce your carbon footprint. So, it's a win-win situation for both style and the planet.
Playful Patterns
When it comes to patterned tiles, you can go as wild or as subdued as you like. For those who love a pop of color, intricate patterns in bright hues create an eye-catching focal point in an otherwise neutral space. But for those who prefer a more minimalist aesthetic, subtle patterns in muted tones add texture and depth without being too loud. It's all about finding the right balance for your personal style.
Size Matters
No, we're not talking about what you think! We're talking about tile sizes here. While small tiles like mosaics are perfect for creating intricate patterns, large tiles have a more modern and sleek feel. The size of your kitchen can also play a factor in this decision. A large kitchen can handle bigger tiles, while a smaller space might look overwhelmed by them. It's all about finding the right proportions for your kitchen.
Seamlessly Incorporating Tile Designs into Your Kitchen Decor
Think of your kitchen as a blank canvas, waiting for you to splash it with colors, patterns, and textures. You've got a ton of tile types to play around with – from those evergreen subway tiles (perfect for a snazzy backsplash) to those dazzling mosaic tiles that can spin a spellbinding pattern.
Looking for something edgier? Patterned tiles – think Moroccan or geometric – can add a groovy vibe to your kitchen. If you're a fan of the minimalist, modern look, you're gonna love larger tiles. They're not just sleek but also practical (fewer grout lines = easy cleaning!). The trick is to pick tiles that gel with your kitchen's theme and color scene. And voila! You've got a kitchen that's not just fabulously functional but also reflects the real 'you'.
Backsplash Designs: A Symphony in Tiles
The backsplash space is your stage – the spotlight is on the tiles you pick. It's where you strut your style, making the cooking area pop with the perfect tiles.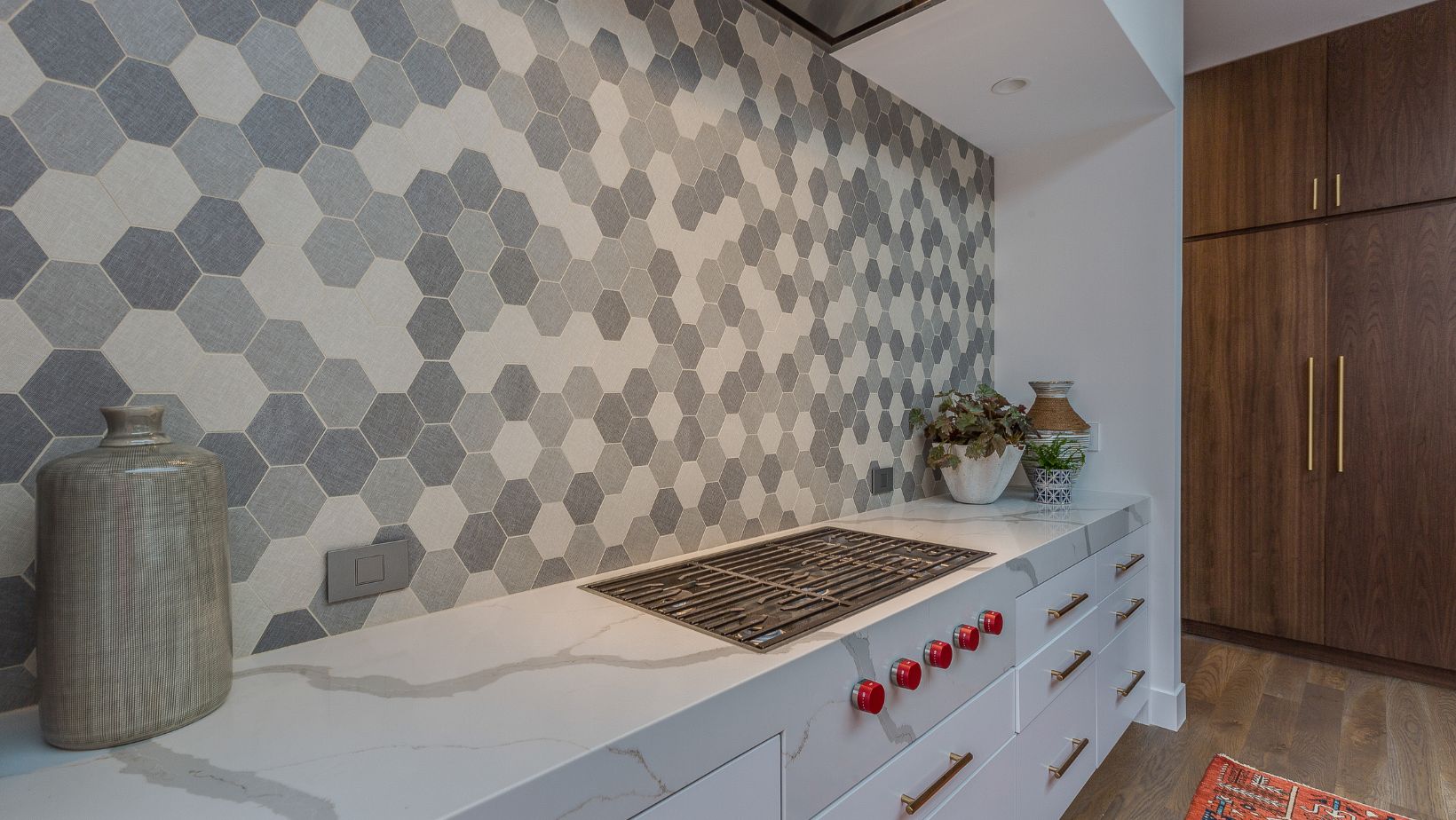 Just remember, your backsplash should be in harmony with your kitchen's overall design, weaving functionality into its good looks. So, whether you're an artist at heart or a practical perfectionist, find the backsplash that makes your kitchen sing!
Floor Tiles: A Solid Foundation
Now, let's give some love to the often-neglected floors. They bear the brunt of our busy lives and still manage to look fabulous. But hey, they deserve more than just good looks – they need to be durable and easy to maintain, too. This is where porcelain or ceramic tiles come in, with their versatility and toughness. And for those who want a warm touch underfoot, natural stone tiles like travertine or terracotta are the way to go.
Countertop Chronicles
Let's face it: countertops have a tough job. From meal prep to hosting parties, they see it all. So, why not give them some love with the right tiles? Porcelain or ceramic tiles are perfect for countertops – easy to clean, heat resistant, and oh-so-elegant. And if you want to add some bling, go for glass or metallic tiles that'll reflect light and add a touch of glamour to your kitchen.
Affordable Tiles Online is a good place to purchase a wide variety of tiles. From classic to bold designs, eco-friendly options to playful patterns, they have it all! So go ahead and elevate your kitchen with some unique tile designs.
Conclusion
Kitchen tile designs are constantly evolving, and there's no shortage of creative options to choose from. Whether you prefer bold and daring or subtle and sophisticated, there's a perfect tile design out there waiting for you. Just remember to consider functionality, durability, and, of course, your personal style when making your choice. With the right tiles, you can transform your kitchen into a space that's not just beautiful but also truly reflects who you are. So go ahead and let your imagination run wild with tile designs – make your kitchen the heart of your home!