Why Are Peacock Chairs So Expensive? (Answered in Detail)
The outdoor living trend is here to stay. More people are now spending their time outdoors, whether in their backyard or at a park.
This trend brings the need for stylish and comfortable outdoor furniture.
Peacock chairs fit this description perfectly. They are not only stylish but also very comfortable.
Consequently, there is an increased demand for this chairs.
So, why are peacock chairs so expensive despite being very popular?
In this post, I will explore the reasons why peacock chairs are expensive and whether they are worth the investment.
I will also look at the different types of peacock chairs available and the factors that can affect their price.
By the end of this post, you will have a better understanding of why peacock chairs are so highly coveted and what makes them a valuable addition to any outdoor living space.
Why Are Peacock Chairs So Expensive?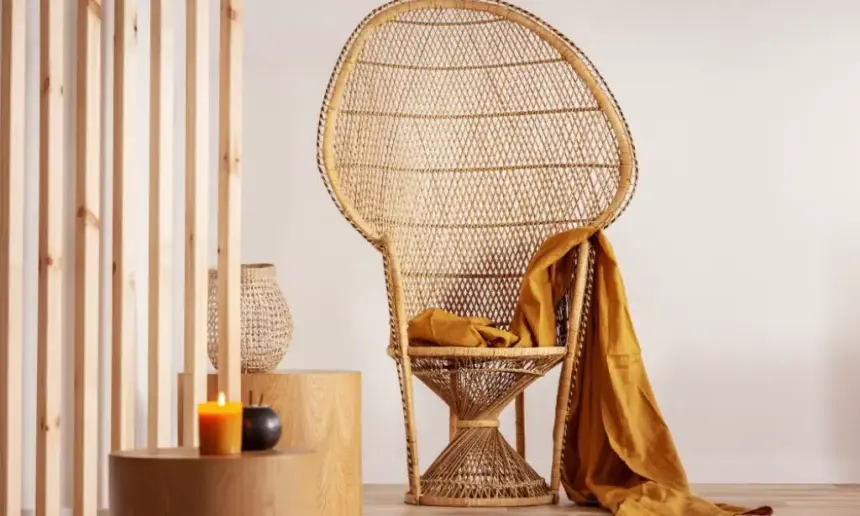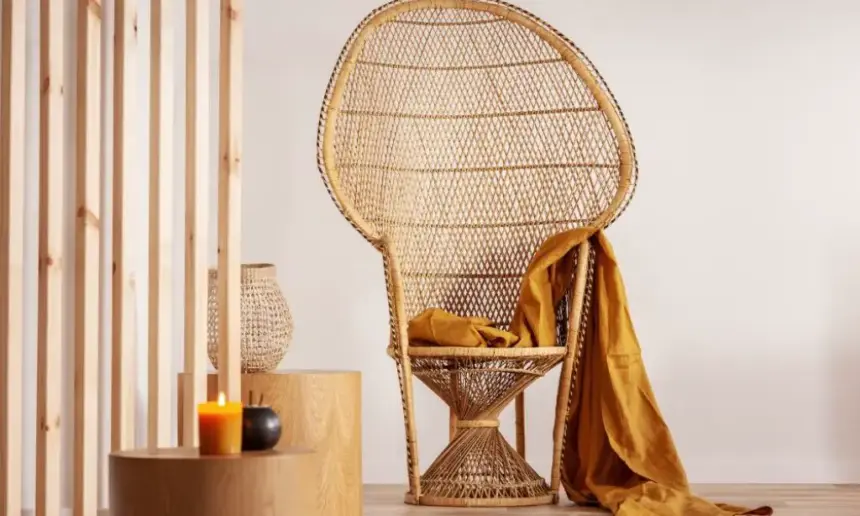 You can find peacock chairs made from different materials, but the most popular and expensive ones are made of Rattan and Wicker.
Wicker is a very strong and durable material, making it a great investment for your outdoor furniture.
It is also very easy to maintain and can last for many years with proper care.
Peacock chairs made of wicker are usually the most expensive, but they are also the most popular choice.
The fact that peacock chairs are handcrafted is the key to the question of why they are so pricey. They aren't mass-produced and need a significant amount of time and work to craft.
Here are reasons why they are so expensive:
1. Weaving Peacock Chairs Are Sophisticated
The process of weaving a peacock chair is very intricate and requires a lot of skill.
The wicker is first wrapped around a metal or wooden frame to create the basic shape of the chair.
Then, the weaver will start to weave the wicker in different directions to create a distinctive peacock tail design.
This process is very time-consuming and requires a lot of skill. Consequently, peacock chairs are usually more expensive than other types of outdoor furniture.
2. Wicker Is A High-Quality Material
Wicker is a natural material that is made from the fibers of certain plants. It is very strong and durable, making it an ideal choice for outdoor furniture.
Wicker is also a very popular material for indoor furniture, but it is usually more expensive than other materials such as wood or metal.
However, the high cost of wicker furniture is offset by its durability and long lifespan.
3. They Are Light In Weight But Have A Better Holding Capacity
Due to their lightweight, they can be easily moved from one place to another.
They are perfect for people who like to change the look of their home often or for those who move frequently.
Even though they are light in weight, they are quite sturdy and can hold a significant amount of weight.
So, you can easily use them as outdoor furniture without worrying about them tipping over.
4. They Have A Natural Resistance To Pests And Rot
Wicker is a material that is made from natural fibers. These fibers are resistant to pests and rot.
The durability nature of wicker makes it a perfect material for outdoor furniture. It can withstand the harsh sun and the rain without getting damaged.
So, if you live in an area that is prone to pests or if you are worried about your furniture getting damaged by the elements, then a peacock chair is a great option for you.
5. They Are Low Maintenance
Peacock chairs are very easy to maintain. You just need to wipe them down with a damp cloth and they will look as good as new.
They are also very durable, so you don't have to worry about them breaking easily.
6. Peacock Chairs Are A Multifunctional Product
Peacock chairs can be used for both indoor and outdoor purposes. They are often used as accent chairs in living rooms or bedrooms.
They can also be used as outdoor furniture on a patio or deck.
They are very versatile and can be used in a variety of ways such as a standalone chair, as part of a set, or even as part of a larger outdoor living area.
You can place them on your lawn to enjoy the weather or you can use them indoors as extra seating when you have guests over.
Sometimes, photographers use peacock chairs as props for wedding or engagement photoshoots.
No matter how you use them, peacock chairs are sure to add a touch of style and sophistication to your home.
7. They Evoke Emotions Of Nostalgia
For many people, peacock chairs evoke emotions of nostalgia. They remind us of lazy summer days spent lounging in the sun or of romantic nights spent stargazing.
Peacock chairs have a timeless appeal and can be passed down from generation to generation.
When you buy a peacock chair, you are not just buying a piece of furniture. You are investing in a cherished family heirloom.
It creates memories that will last a lifetime.
8. They Are Unique Conversation Starters
Peacock chairs are very eye-catching and often become the center of attention in any room.
They are sure to start a conversation, whether you are entertaining guests or just spending time with family.
Peacock chairs add a touch of whimsy and fun to any setting.
The ambiance of your home can be completely transformed by adding just one peacock chair. It will become the focal point of any room and add a touch of luxury.
9. They Are Luxurious
Peacock chairs are often associated with luxury and opulence. They are often seen in high-end homes and hotels.
Peacock chairs add a touch of class and elegance to any space. They usually make a statement and convey a message of wealth and success.
10. They Are Available In Multiple Colors
Many people prefer the natural tone which is the original color of wicker, but wicker can also be dyed into multiple colors.
So, if you want your peacock chair to match the rest of your furniture or home décor, you can easily find one in the color that you want.
The unpainted ones provide a more natural look but they are susceptible to fading over time.
On the other hand, the painted peacock chairs have a more polished and sophisticated look. But, the paint may chip off over time.
Maintaining a peacock chair is not difficult. You just need to clean it regularly with a mild soap and water solution.
Avoid using harsh chemicals or abrasive cleaners as they can damage the wicker.
Where Do Peacock Chairs Come From?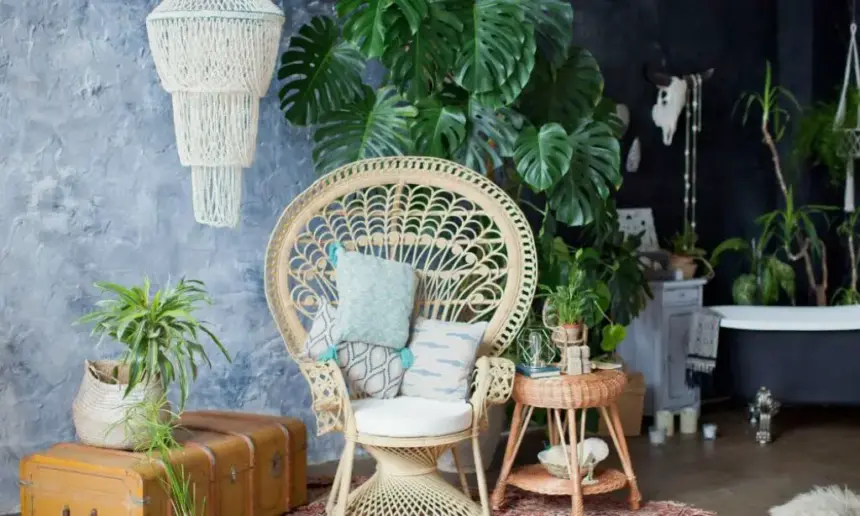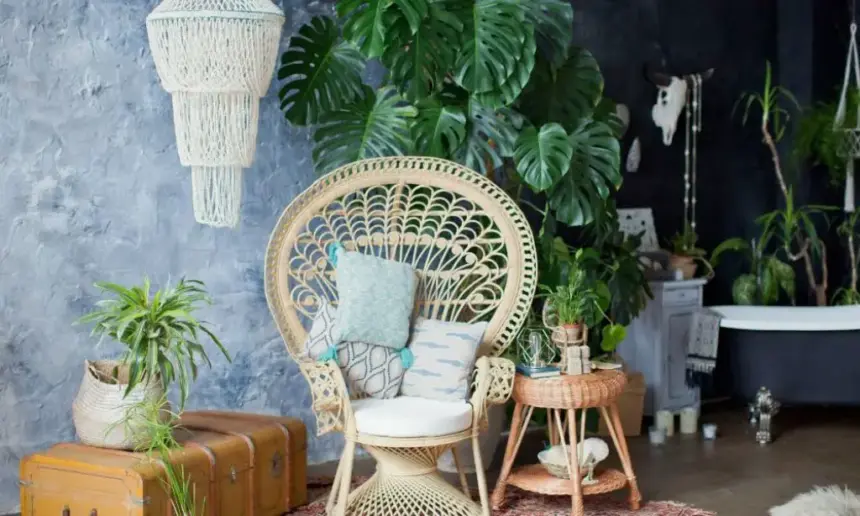 Peacock chairs have been around for centuries, and their origins can be traced back to the phillipines.
Peacock chairs eventually made their way to the united states in the 20th century, where they became popular among the upper class.
Today, peacock chairs are still considered to be a symbol of luxury and status, which is why they come with a high price tag.
In most cases, the materials used are wicker, rattan, or bamboo. You can find peacock chairs with or without a cushion.
The ones with cushions are usually more expensive than the ones without cushions.
Are Peacock Chairs Sturdy?
When built of natural materials like rattan and Wicker, peacock chairs can be rather strong. Rattan is a long, thin palm that grows in tropical climates and is commonly used in furniture frames.
Rattan, while robust enough to sustain a person's weight, is yet flexible and lightweight, making it easy to handle and carry.
Wicker is produced from thin shoots of plants such as vines, or bamboo that are interlaced.
It produces a very tough weave that can survive the environment and wear over time. Both Wicker and Rattan are majorly used in the weaving of peacock chairs.
What Is The Peacock Chair Used For?
Peacock chairs are often used as statement pieces in a room, or as part of a larger peacock-themed decor.
They can also be used functionally, as comfortable and stylish chairs for people to sit in. However, their high price tag means that they are not always practical for everyone.
They are mostly used for:
a) Statement pieces in a room
b) As part of a larger peacock-themed décor
c) As comfortable and stylish chairs for people to sit in.
Conclusion
It is no secret that peacock chairs are among the most expensive pieces of furniture on the market.
So, why are peacock chairs so expensive?
Peacock chairs are often made from high-quality materials like Rattan or Wicker. They are also usually hand-carved, which adds to their cost.
In addition, peacock chairs often have intricate designs that make them stand out from other pieces of furniture.
All of these factors contribute to the high price tag of peacock chairs.
However, despite their cost, peacock chairs are still a popular choice for many homeowners because of their unique beauty and craftsmanship.