How To Decorate A Front Porch?
The front porch is the first thing anyone sees as they approach your home.
Also, it's the key element of making a good first impression on visitors.
For many, the front porch effectively works as a second, outdoor living room, a place to spend some quiet time and relax.
Depending on the type, it can also be used to gather family and friends or simply, keep up with neighbors.
So, no matter the size and style, the front porch deserves as much attention when it comes to decor and design as the space inside your house.
The way you design and arrange your front porch will have a great impact on its functionality and can significantly improve or worsen the quality of time spent there.
To help you make the most of this valuable space in your household, I'll share a few tips on how to decorate a front porch.
So, let's dive in!
How to Decorate a Front Porch?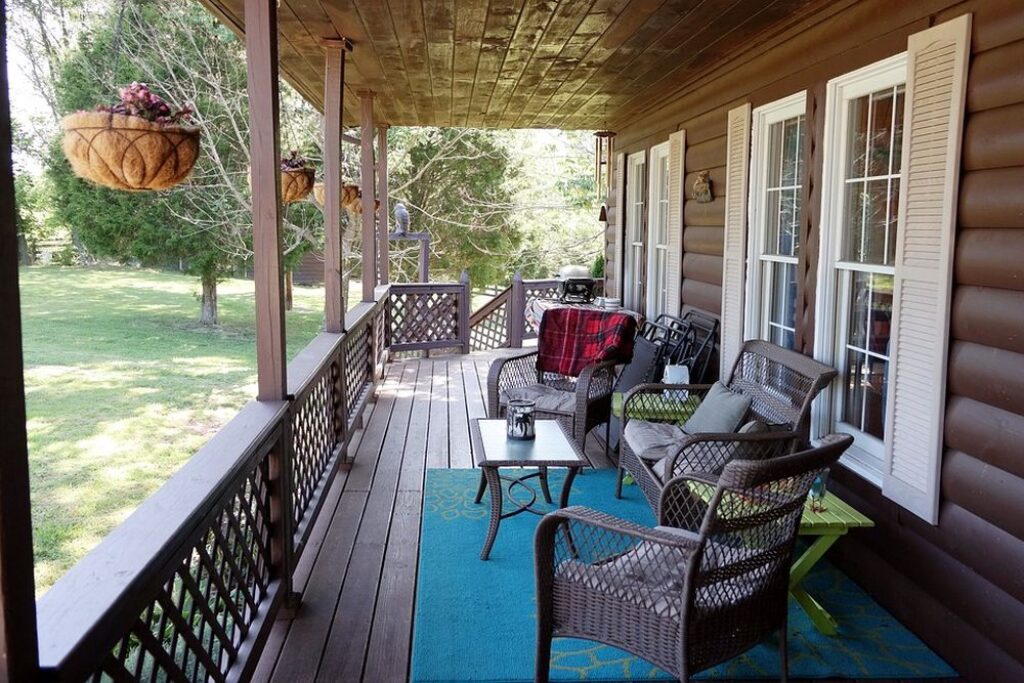 Not every front porch will offer the same decorating opportunities. In some cases, you may be limited by the small square footage or the impractical architectural design.
However, there are a few simple steps you can take to make any type of front porch more inviting and improve the curb appeal of your home.
Best of all, all of these things can be done on a tight budget and with minimal design experience.
Clean and Declutter
Before you move on to adding touches that will improve the look and feel of your front porch, make sure that it's clean and tidy.
A messy space in front of your entrance door won't look good no matter how you style it or what you add to it.
A thorough cleaning can make a huge difference in the appeal of your front porch and brighten up the whole area.
Depending on the porch layout, you can clean it with a pressure washer or go old-school and bring out the scrub brush and a bucket.
Make sure to remove everything that's not nailed down before you start cleaning, so you can access every part of the porch surface.
This will also give you a chance to declutter the front porch. Get rid of all unnecessary, dated, or ill-used items that just make it look overcrowded and hinder its functionality.
Repaint the Front Porch
A fresh coat of paint on the front porch area can do wonders for the overall appeal of your house.
Depending on the materials the front porch is made of you can go for the full paint job or simply stain the wood and concrete elements to refresh them and help them maintain their good looks for a longer period.
Pay particular attention to areas that often get worn out rather quickly, such as doors, columns, and railings.
Also, consider the colors and visual design of the entire house. For example, a front porch painted green works great with a red brick exterior.
Typically, lighter shades provide a more traditional feel, while you can opt for darker tones if you want a more modern look.
Consider the Lighting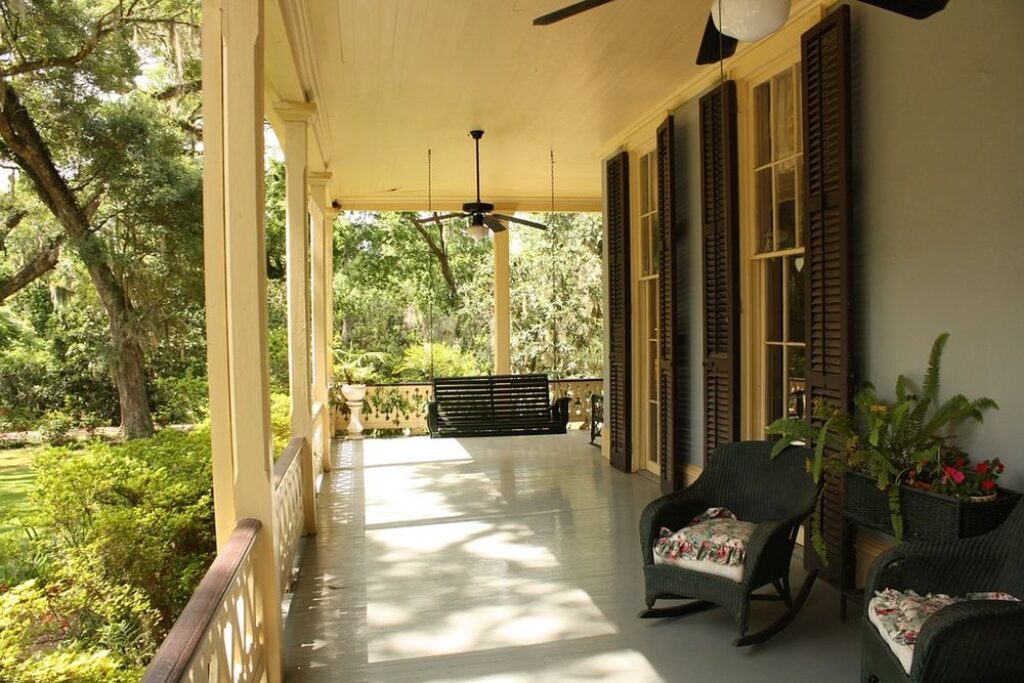 Lighting can play a huge role in making your front porch a more enjoyable place to spend time in.
This is especially important as most people love spending time on the porch in the evening, as the sun sets.
The lighting on the porch shouldn't be too bright to be distracting, but should still illuminate the faces of everyone sitting there.
So, always opt for the more intimate lighting, as too much brightness can make the entire space look too sterile instead of warm and comfortable.
There are several options you can choose from to achieve this.
You can use Christmas twinkle lights and string them across the ceiling or go with sconces or hanging lanterns.
In the case of the latter, it's a good idea to have their color match the front door. You may also use large table lamps to create a more roomy feel.
Add Some Greenery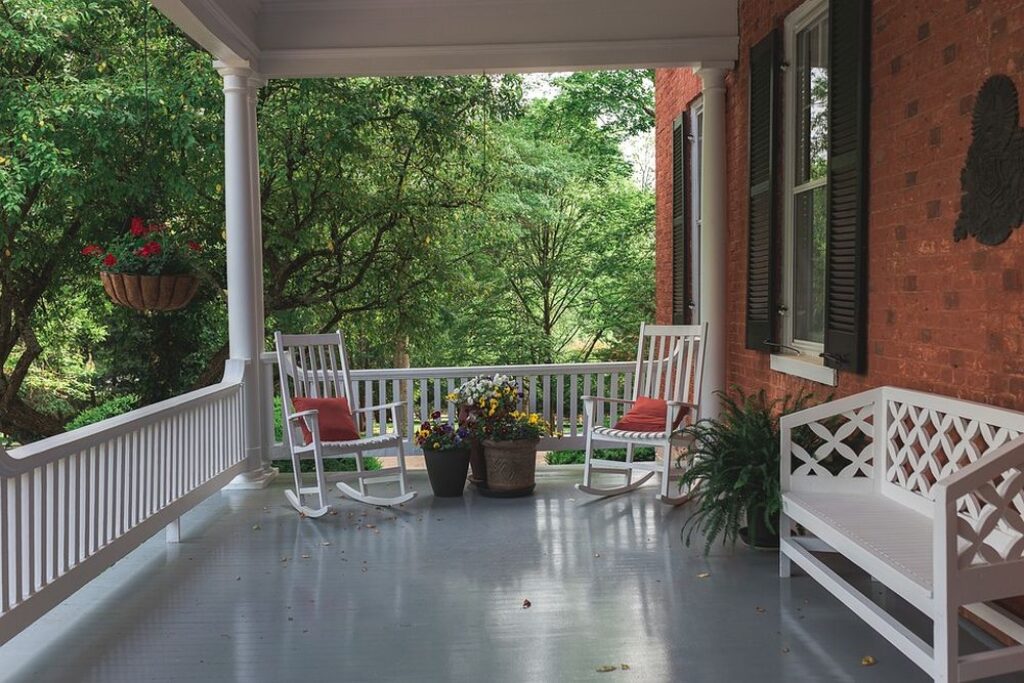 The easiest way to make your front porch more lively is to add some plants.
You can go with climbing plants, such as jasmine or wisteria to decorate porch walls and frame the entrance.
Another option is strategically placing potted plants around the porch and using both plants and pots to add some color.
While it's easy to get carried away when adding plants, you should still be careful not to overcrowd the area with greenery, making it look too cluttered.
The choice of plants will mostly depend on your personal preference and the kind of look you enjoy the most.
A monochrome palette of mostly green plants or black pots will make for a more minimalistic decor, while bright and colorful flowers can add some vibrancy to the porch area.
Create a Seating Area
If you have enough space, look to introduce some outdoor furniture and create a cozy seating area on your front porch.
Doing this will not only enhance the visual appeal of the porch but provide an opportunity to relax after a long day and spend quality time with your family and friends.
It will also paint a picture of a welcoming and friendly household. The choice of furniture will depend on the size and the layout of the front porch.
With more space, you can create a larger and more comfortable seating area centered around a rug, but a bench or a couple of rocking chairs with a few cushions and a small side table can work, too.
Conclusion
Not everyone is lucky enough to have a front porch in front of their house, so if you do have one, make sure to appreciate this space and make the most use of it.
A well-decorated and cozy front porch can improve your daily life, reduce stress, and make your house more welcoming and visually appealing.
You should see the front porch as the extension of your house interior and a glimpse at the inviting nature of the entire household.
The few simple tricks described above can help you transform your front porch and make it more beautiful without breaking the bank or investing much effort.