Behr Dry Plus vs Drylok – What's the Difference?
Moisture in the basement is one of the most serious issues any homeowner can face.
The basement and the house foundation are always the first to receive the water coming from the environment.
And humidity in this part of the house can not only ruin the aesthetic appeal but lead to an unhealthy environment, mold development, and even compromise the building's structural integrity.
That's why it's important to take steps to waterproof your household. This is especially true for the walls in the basement or garage, which are at the most risk.
When researching waterproofers, you'll notice that there are plenty of different options on the market.
Still, it's always best to go with established brands, such as Behr or Drylok.
Below, I'll take a closer look at these products and compare Behr Dry Plus vs Drylok to see which one may be a better fit for a particular project.
So, let;s dive in!
Behr Dry Plus – Information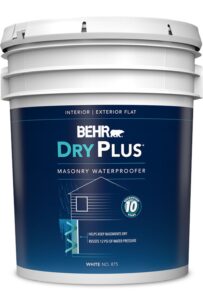 Behr is a well-established name in the overcrowded market, best known for its line of painting products, but also for high-quality waterproofers.
As Behr is Home Depot's in-house painting brand, its products are only available at their stores.
Behr Dry Plus is a masonry waterproofer specifically designed for porous concrete surfaces.
Besides providing a barrier to stop water from leaking through the walls, Behr Dry Plus is also known for its decorative and smooth finish.
It can be applied to a range of different types of walls taking the hydrostatic pressure.
This includes walls made of above or below-grade concrete, stucco, brick, cinder blocks, and others.
Behr Dry Plus waterproofer is easy to use and can be applied using a brush, roller, or even an airless sprayer.
Note that, while it can be applied to damp surfaces, it's not for use on floors or walls with an active water leak.
Drylok – Information
Drylok has been one of the best-selling waterproofers for quite a while.
It's very popular both among homeowners and contractors mainly due to its effectiveness, ease of application, and affordable price.
Its primary use is in the basements where it's applied to prevent the water from the environment from leaking through the interior concrete and masonry walls, foundation, and floors.
The main advantage of Drylok is its powerful sealing performance achieved by penetrating tiny pores in concrete.
This way, unlike regular paint products that only cover the surface,
Drylok creates an impenetrable protective coating, keeping water from leaking into your house's interior. Besides being efficient in controlling water leakage,
Drylok also works well on powdery salty deposits on concrete surfaces, better known as efflorescence.
There are several different types of sealing products offered by Drylok, and depending on the specific type, they may be latex or oil-based.
Behr Dry Plus vs Drylok – What's the Difference?
As two of the most popular waterproofing products with a similar main purpose, Behr Dry Plus and Drylok have a lot in common.
The process of application is rather similar for both of these waterproofers and each of them requires two coats minimum.
Also, they both are available in several different colors and tints and can be used for both exterior and interior projects.
However, when choosing the waterproof for a particular project, you're likely to be more interested in what separates these products.
Here's a brief rundown of the major differences between the two.
Curing Time
If you're short on time and you want to finish your waterproofing project as soon as possible, then the time it takes the waterproofer to dry will play a big role in your decision of which one to choose.
The surface treated with Drylok will be ready for use faster than the one where you applied Behr Dry Plus.
Drylok is dry to the touch within 45 minutes, while you can apply the second coat after two hours.
With Drylok, a full cure is reached after 5-7 days. On the other hand, Behr Dry Plus is dry to touch after 60 minutes and ready for recoat after 4 hours.
It will fully cure after 7 to 14 days, depending on the environmental conditions.
Note that if you're applying waterproofing product to new concrete, it should cure for a minimum of 30 days,
Coverage and Spread Rate
If you're interested in getting more coverage with the same amount of waterproofer then you should opt for Behr Dry Plus.
While with a gallon of Drylok, you can cover around 100 square feet of surface, the spread rate for Behr Dry
Plus is 100-125 sq ft for smooth application and 75-100sq ft for a more rough coating.
Resistance to Water Pressure
As the water inside the wall constantly applies pressure to the surface and waterproof coating, the better resistance rating of the waterproofing product will mean fewer chances of the surface layer cracking or flaking.
The advantage here is on the side of Drylok which has a resistance of 15 PSI (for the Drylok Extreme variant).
Behr Dry Plus can withstand up to 12 PSI of water pressure.
Which is Better Behr Dry Plus or Drylok?
Both Behr Dry Plus and Drylok deservedly hold their place among the best and most popular waterproofing products.
Which one will be better for you will mainly depend on the particular project you plan to use these products for.
Drylok is known to be more durable and can withstand more water pressure, making it more durable and resistant to wear and cracking.
It's also better if you want to finish your project sooner as it takes less time to dry and cure.
On the other hand, if you aim for a more aesthetically pleasing surface,
Behr Dry Plus will offer a smoother and more decorative finish, compared to the more textured coating provided by Drylok.
Plus, Behr's product offers more options when it comes to different colors and tints.
Conclusion
Both Behr Dry Plus and Drylok are quality products and, most likely, you won't regret using either of them, as each will provide a great waterproofing performance.
As moisture issues are common in spaces like basements or garages, you will have to do something to protect against water leakage and these two products are certainly among the best available options.
Both have their advantages and downsides, so make sure to carefully consider your requirements and what both Behr Dry Plus and Drylok offer, so you can make the right decision and choose the waterproofing product that will provide the best results in your house.