How to Set Up a Coffee Bar at Home
For many of us, a perfect day is unimaginable without our dose of fresh coffee.
It puts an extra pep in our step and sets the vibe for the whole day.
Even more satisfying is a cup of coffee you've prepared yourself in your own coffee station.
Having a coffee bar at your home allows you to always have fresh coffee prepared the way you like it and any time you want it.
Furthermore, it saves you the time and money needed for a trip to a coffee shop.
Setting up a home coffee bar can be a fun DIY project, resulting in a new piece to spice up your home decor.
Below, I'll share a few tips on how to set up a coffee bar at home in a way that makes the most of the available space and budget.
So let's get into it
How to Set Up a Coffee Bar at Home
While you may feel that this is a rather complex project, creating your coffee bar at your home is actually pretty simple and fairly cheap.
The most important thing is to find a proper space where you will set it up and then equip it with all necessities needed to make a great coffee beverage.
This includes both the ingredients and coffee-making devices.
The actual setup will, ultimately, mostly depend on your personal preferences, both regarding your taste in coffee and how you want your home to look and feel.
Finding the Perfect Spot for the Home Coffee Bar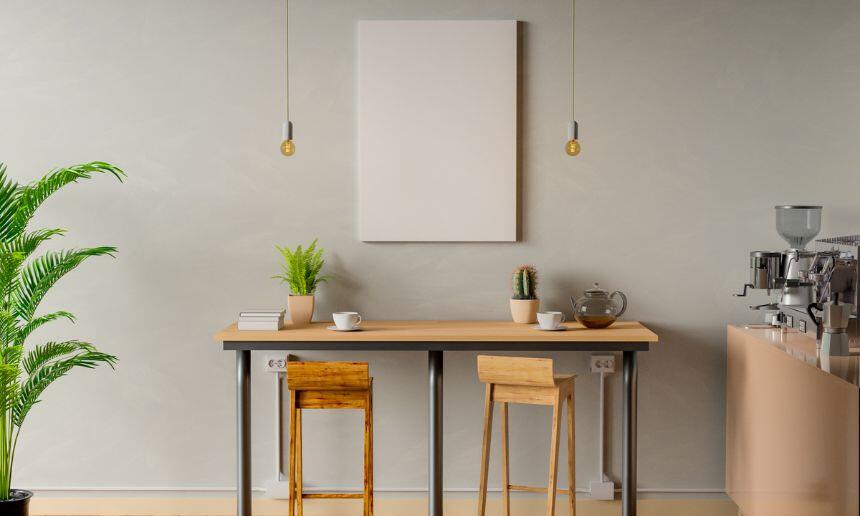 The first thing to think about is where you're going to place the coffee bar.
You won't need a lot of space, but still, look to make enough room to fit everything you need and feel comfortable while making coffee.
Here are a couple of potential options.
Countertop
If you have some room on your kitchen counter, it's probably the most convenient spot to place your coffee bar.
In the kitchen, you'll have easy access to electricity and water, so setting up a coffee maker won't be much of an issue.
However, be aware that the coffee bar will take up some valuable space in smaller kitchens.
Of course, you'll first need to clear out some space on the countertop and place a tray or some other sort of base there.
The central position will belong to a coffee maker, and you can surround it with the mugs you'll use and coffee beans or pods, as well as various add-ins, such as sweeteners or syrups.
It will all depend on the available space.
You can free up some space if there's a shelf or a cabinet above where you can hang the mugs or store some of the coffee items.
Kitchen Cabinet
Another viable option is a kitchen cabinet, especially those that are tall and slender.
They can fit a coffee machine perfectly and still have enough room for everything else you may need.
This way you can have your coffee station conveniently placed in or near the kitchen and still have all the kitchen space available for meal preparation and anything else you may want to use this room for.
In addition, when you're not using it, the coffee maker will be neatly tucked away and protected behind the cabinet doors.
Rolling Cart
For those with limited kitchen and countertop space, a rolling cart may be the perfect option for locating the home coffee bar.
This is a particularly convenient location, as you can move it around and change the coffee station place as needed.
Plus, if you're using a bar cart or something similar, you'll have at least two parallel shelves that will provide more than enough room for the coffee-making device and all the coffee ingredients and other accessories.
This way, you'll have everything you need readily accessible and at the reach of your hand.
Furthermore, having your coffee bar on a rolling cart will allow you to proudly display your coffee gear for everyone to see.
You can add a bit of personal touch to the coffee cart by styling it with photographs, artwork, or anything else you can think of.
Coffee Bar Supplies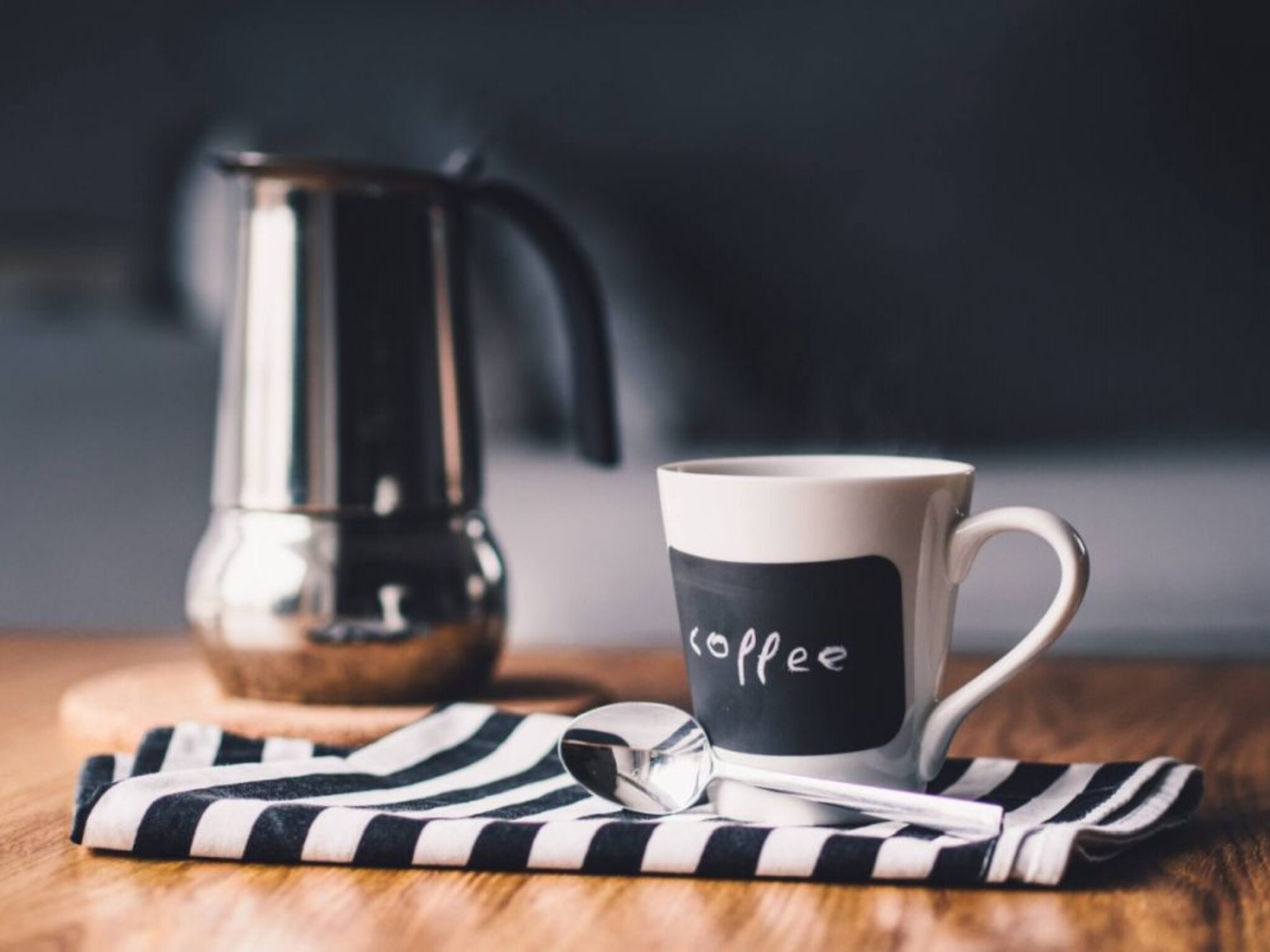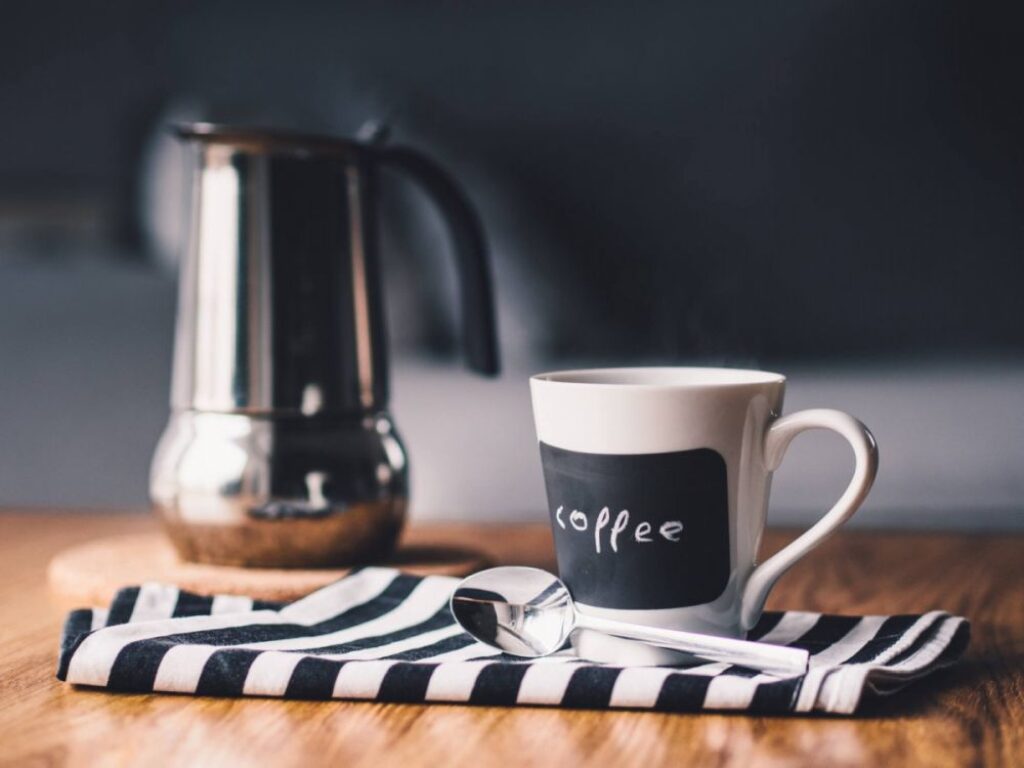 Once you've found the perfect spot for your home coffee bar, it's time to properly equip it with everything you need to make a great cup of coffee.
Your coffee bar can feature a number of various items, but a couple of elements are essential.
Coffee Machine
The central spot in your coffee bar will always belong to your coffee-making device.
You can go different routes here, depending on your preferences when it comes to the type of coffee you like to drink.
The coffee machine will also take the biggest chunk of your budget, so, better make it worth it.
For the money you spend on the coffee maker, you should look to get a device that will answer your daily coffee needs, but also be capable of producing larger batches of coffee for when you're entertaining guests.
When choosing the coffee machine, make sure to do your homework and research all the potential options, so you can make an informed decision and pick the right one.
Coffee Pods or Beans
The type of coffee you love will dictate what type of ingredients you'll have at your coffee bar.
If you love a fresh-tasting brew, investing in a coffee grinder and buying whole-bean coffee is the best option.
It will also allow you to get creative and toy around with different roasts and grind sizes.
On the other hand, using coffee pods or capsules is much quicker, simpler, and more cost-effective, but it does bring the same freshens or flavor as coffee beans.
Coffee Cups, Mugs, and Other Dishes
To properly feel the taste and flavor of coffee, you'll need the right cups.
While the designs of the cups will depend on your personal preference and the type of coffee you like to drink, you'll need to make sure that whatever kind you choose, it can keep your coffee's temperature.
Also, don't forget to add some spoons, as you'll need something to mix sugar and other add-ins with.
Sweeteners
Besides coffee itself, you'll have to also set up your coffee station with various mix-ins.
The choice will depend on your taste, but this area of the home coffee bar will typically feature sugar, natural sweeteners such as honey, or various syrups and flavorings.
Conclusion
Setting up a coffee bar at your home will certainly enrich your daily life and probably add a lot to the entire decor of your household.
Plus, your daily ritual of coffee drinking will be far more satisfying when you know that you made the beverage yourself.
When it comes to creating a home coffee station, the possibilities are almost endless. The only restrictions you will face are your budget and available space.
Still, even working on a budget and in limited space, you'll be able to create a cozy coffee corner that will fit your personality and the overall decor style.